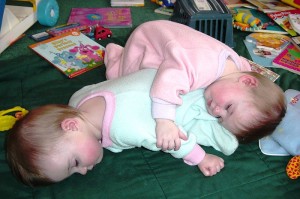 First came smart phones. Now comes smart clothes.
According to a recent Time Magazine article, new on the market (available to buy) or soon to be on the market are clothes that will give us even more information about ourselves or about the ones we love. These pieces of clothing have sensors (devices that monitor or detect something) that help keep track of (check regularly) how a person's body is doing.
The clothing isn't just for adults. A new baby romper (one piece of clothing that covers the top and bottom parts of the body, usually with buttons or snaps between the legs), for example, monitors a baby's breathing and body temperature, and sends an alert (warning) to the parent's phone if there are problems.
For women, there is a new bra (piece of clothing women wear over their breasts) that is suppose to detect (find) breast cancer. Doctors have warned against relying on this type of technology and say that wearing it should not replace getting a mammogram (a medical test using X-rays to find signs of breast cancer), but this shows the direction that smart clothes may take in the future.
For people who exercise, there is clothing for both men and women that monitors heart rate (the speed of your heartbeat), respiration (your breathing), and calories (units of energy in your body) you burn (use). The information is sent to your smart phone as you exercise.
 Can you imagine wearing smart clothes? What do you hope smart clothes can do for you in the future?
– Jeff
* "Smarty pants" is a name people — usually children — call someone who shows how smart they are in an annoying way, usually by boasting (telling others how great one is) about their knowledge or abilities or by showing off (showing others one's abilities in an obvious way).
Photo Credit: Being a twin means you always have a pillow or blanket handy from Wikipedia