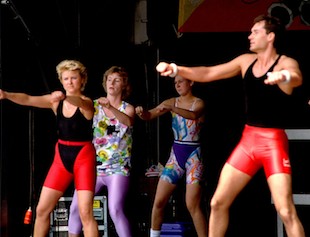 If someone asked you, "Are you physically fit (healthy, especially from exercise)?" what would you say? That question is easier to answer today because a group of scientists have created a new way – called fitness age – to measure physical fitness.
If you are physically fit, you will probably live longer. And if you are physically fit, you have lower risk (negative possibility) of experiencing anxiety (worry), depression, heart disease, diabetes (disease in which there is too much sugar in the blood), certain kinds of cancer, and high blood pressure.
There are several aspects (parts) to physical fitness, but aerobic fitness – the ability of your heart and lungs to supply oxygen-rich (containing a large amount of oxygen) blood to your body – is one of the most important.
Measuring aerobic fitness usually requires special equipment. But a recent article in the New York Times describes how a group of scientists in Norway worked together to find a simple way to measure aerobic fitness and estimate (measure approximately) fitness age – how well someone's body works physically, compared to how well it should work at a certain age.
These scientists studied almost 5,000 people between the ages of 20 and 90. They made physical measurements, asked questions about their lifestyles (how they lived), and measured how well their hearts and lungs supplied oxygen-rich blood to their bodies.
When the scientists studied the data (pieces of information) they had collected, they found that they could estimate a person's fitness age by putting five measurements – age, gender (male/female), waist circumference (distance around the middle part of your body), resting heart rate (how fast your heart beats when you're resting), how often you exercise, and how hard your exercise – into a special formula (a set of calculations, like addition).
They used this formula to create an online calculator that anyone can use to find their fitness age and learn how fit they are. If you are typical (like most people your age), your fitness age and your actual age will be the same. If your physical fitness is poor, your fitness age will be higher than your actual age. If it is good, it will be lower than your actual age.
If you'd like to get an estimate of your fitness age, take a few minutes now to try the calculator. All the instructions you need are on the web page.
How did you do? I was happily surprised by my fitness age. I expected it to be lower than my actual age – many of you will remember that I do a lot of bicycle riding – but it was even lower than I expected.
If you would like to lower your fitness age, the good news is that you can do it, no matter how old you are, with aerobic exercise. If you'd like to lower yours, this short article by Covert Bailey can help you get started. One of his books helped me begin to get fit many years ago.
*The title is a joke. Years ago, when I started exercising regularly, a friend gave me a t-shirt with this phrase – Physically Phfft – on it. "Phfft" sounds like the word "fit" without the "i". It's an expression some people use to describe something that ends or fails in a disappointing way – for example, "I wanted to go to the beach with my friends, but my plans went phfft when they decided not to go!" Hopefully, all of us are physically fit, not phfft!
~ Warren Ediger, ESL tutor/coach and creator of the Successful English web site.
Photo courtesy of Wikipedia Commons.