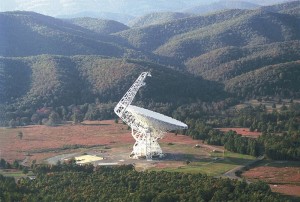 Imagine living in a place where no cell phones are allowed, no Wi-Fi is allowed, and no radio stations broadcast. To you, is this a nightmare (bad dream) or a dream come true (something very good or desirable)?
If this appeals (sounds good) to you, you may want to move to a 13,000 square mile (34,000 square kilometer) area in eastern West Virginia.
This area has been designated as (officially named) the United States National Radio Quiet Zone since 1958. That means communication signals (electronic waves used to transmit or send information through the air) are severely (very much) limited.
The reason this Zone is needed is because the world's largest fully steerable (movable) radio telescope is located there — the Robert C. Byrd Green Bank Telescope. This radio telescope is very large and it tracks (looks for and follows) energy waves that come from outer space (area beyond the Earth) coming from stars and gases. Because these energy waves are very faint (weak; barely able to be noticed), the telescope has to be in an area that is very quiet. That's the reason cell phones, Wi-Fi, radio stations (with one exception, because it broadcasts at a very low frequency), and other similar types of communications are largely banned (not allowed by law).
Not all types of radio transmissions are banned, of course. For example, police, fire department, and ambulance (emergency vehicle used to take hurt people to the hospital) radios are allowed.
I'm not sure how many people live in this Zone. This recent article mentions residents (people who live there) and businesses that have to contend with (deal with) these limitations. But if you visit this area, expect to use landline telephones (telephone service connected by wires) or pay phones.
Are there areas you're familiar with where cell phone and Internet services are not available or not allowed? Would you ever consider moving to a place where there are these types of restrictions?
– Lucy
Photo Credit: Green Bank 100m Diameter Radio Telescope from Wikipedia