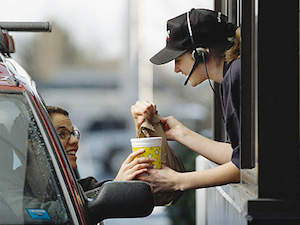 If you drive through New Braunfels, Texas, on Highway 46 and go through the Chick-fil-a drive-through (a restaurant where you can be served without getting out of your car), be prepared for a surprise. It's not unusual, when you stop at the window to pay for your order, to have the cashier (the person who takes your money) smile at you, hand you your food, and say, "The people ahead of you paid it forward (paying for the food ordered by the people in the car behind you)."
Some might say that such an experience is the result of small-town Southern hospitality (friendly behavior toward strangers). But a recent article in the New York Times says you could easily experience the same thing at a Dunkin' Donuts drive-through in Detroit, Michigan, or a McDonald's drive-through in Fargo, North Dakota. According to the Times, "Drive-through generosity (giving more than necessary) is happening across America and parts of Canada, sometimes resulting in unbroken chains (lines, queues) of hundreds of cars paying in turn for the person behind them." It used to happen a couple of times a year. Now, fast-food operators say, it might happen several times a day.
Paying forward is an example of a random act of kindness – something that you do, without being asked or paid, to help someone or make them happy. Happily, the practice (doing) of random acts of kindness has been growing in North America. There's even a web site.
Paying forward is not a new idea. According to a Wikipedia article, Benjamin Franklin, a well-known early American writer and diplomat, did it and called it "a trick of mine for doing … good with a little money." Near the end of World War II, a representative of Alcoholics (people who drink too much and have trouble stopping) Anonymous, an organization that helps people stop drinking, said that "You can't pay anyone back for what has happened to you, so you try to find someone you can pay forward."
According to the Times article, the idea of paying forward became popular recently as the result of the best-selling novel, Paying It Forward, by Catherine Hyde Ryan. In the novel, and the movie that followed, the main character does three good deeds and asks the people who received the good deeds to do the same.
I like the way Ray Bradbury, well-known and best-selling science fiction author, writes about paying it forward. In his novel Dandelion Wine, one of the characters wonders how to pay someone back for saving his life:
How do I thank Mr. Jonas, he wondered, for what he's done? How do I thank him, how to pay him back? No way, no way at all. You just can't pay. What then? What? Pass it on somehow, he thought, pass it on to someone else. Keep the chain moving. Look around, find someone, and pass it on. That was the only way….
What a great idea – finding someone and paying forward!
~ Warren Ediger – English tutor/coach and creator of Successful English, where you'll find clear explanations and practical suggestions for better English.
Photo credit: observer.com.