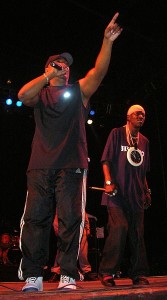 We've all known songs, maybe songs we've known for a long time, with lyrics (words) that we thought we understood. Later we find out that what we thought were the lyrics were all wrong.
I don't remember when I first heard the song "Lucille" by Kenny Rogers, but people used to sing it to me a lot because Lucille is a form of my name, Lucy. The chorus (part of the song that is repeated) begins like this:
"You picked a fine time to leave me, Lucille
With four hungry children
And a crop (plants on a farm grown for food) in the field"
For over 15 years, I thought that the second line of that chorus was, "With four hundred children…"  There's a small difference between four and four hundred. In my defense (my excuse is), I thought the songwriter was being poetic (imaginative and figurative (not literal, not saying the exact truth)), trying to say that the singer has a heavy burden (a lot of troubles and responsibilities).
If you listen to American rap music, this may help you. Rap music, as you probably know, is a type of music where the lines are said rather than sung, with a clear pattern, and many of the words at the end of each phrase or sentence rhyme (have the same sound), similar to a poem. Rap lyrics are notoriously (famous in a bad way) difficult to understand, partly because they are said so quickly, but also because they often refer to African American culture and to street slang (informal language used on the streets in cities) that listeners may not be familiar with.
Now there is help. There is a website called Rap Genius that uses crowd sourcing — the practice of allow anyone to comment or give information, similar to how Wikipedia works. Anyone can select and highlight words (make text look brighter or special to call attention to it) in a song and give their interpretation or opinion about what that lyric means. Like any crowd-sourced website, you have to take those comments with a grain of salt (be careful what you believe and don't believe, what you accept and don't accept), but it may be useful for some rap fans who want more information or some explanation of what they hear.
We often get emails from listeners with questions about song lyrics. If you have a question about a rap song, you may want to check out (look at) Rap Genius to see if it can help you unravel (solve; answer) your question. No doubt both you and I will be heading there (going there) looking for answers.
Have you experienced any interesting or funny cases of misheard lyrics (words of a song that you got wrong)?
– Lucy
Photo Credit: Bilbao BUM Chuck dedo Flavor from Wikipedia