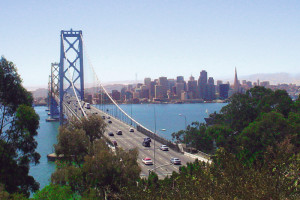 The naming of bridges (see photo) after notable (important; remarkable) people is a common practice (something often done) in many countries. On the East Coast (part of the U.S. on the Atlantic Ocean), you'll find the Walt Whitman Bridge, spanning (reaching from one side to the other) the Delaware River separating the states of Pennsylvania and New Jersey, and named after the American poet Walt Whitman (1818-1892). Quite often, you'll find bridges named after politicians, such as presidents. One example is the Woodrow Wilson Memorial Bridge, which connects the states of Virginia and Maryland, and which is named after our 28th president, who served (was in an elected or appointed job) from 1913 to 1921.
While the naming of some landmarks (important locations or structures) is simple and occurs following a unanimous (without anyone disagreeing) decision, others are more contentious (causing argument or disagreement). One recent example is the new span (length) of the Bay Bridge in San Francisco connecting the cities of San Francisco and Oakland.
Some people want to name it after (use the name) Willie Brown, a former mayor (highest elected leader) of San Francisco and assembly member (member of the state government). The state legislature (law-making group of politicians) approved this 68 to 0, but now people are voicing their disagreement, including the current State of California Governor Jerry Brown (no relation (Jerry Brown and Willie Brown are not related by blood)). For some people, Willie Brown was a political enemy and naming the bridge after him doesn't sit right (doesn't feel right; isn't acceptable) with them.
These kinds of naming controversies are not new, of course. A recent National Public Radio article mentioned this and other examples. According to the author of the NPR article, this is why most of the bridges in the U.S. are unnamed, or not named.
Are bridges and landmarks (important places easily seen from a distance) normally named where you live? Have there been similar types of controversy? Have any had name changes for political or other similar reasons?
– Lucy
 Photo Credit: Oakland Bay Bridge from Yerba Buena Island from Wikipedia