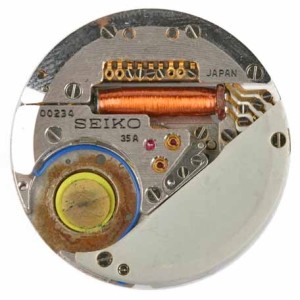 By now, many of you have probably heard about the next big thing (something that is expected to become very popular): the smartwatch. A smartwatch is like a smartphone, but worn on the wrist (the part of the body that connects your hand and arm). As with a smartphone, you'll be able to check your email, take photos, and make phone calls with it. At least three large companies have announced that they are working on a smartwatch or have already introduced early versions, including Samsung, Sony, and Qualcomm.
But did you know that the first attempt at a commercial (made for sale) smartwatch was way back (a long time ago) in the 1970s by Intel? At that time, Intel — the computer microchip (the very small, thin part in a computer that allows it to work) company — bought a watch company called Microma Universal, which made the first LCD — liquid crystal display — watch. (Liquid crystal technology uses light and crystals to make it possible for us to see the numbers of a watch in the dark.) The hope and plan of the head of Intel, Gordon Moore (known also for Moore's Law), was to develop and add other functions to the watch. Sadly for Intel, the technology hadn't been developed yet to make the computer chip small and powerful enough to do more than display the time on the watch.
Gordon Moore's plans didn't get as far as he wanted and the entire enterprise (plan for the project) was considered a failure. Moore says that he wore the Microma watch on his wrist for many years to remind himself to stay out of (not get into or enter) the smartwatch business, calling it his "$15 million watch." That's how much the company lost when it tried developing the first commercially-viable (successful in selling) smartwatch.
You can hear Gordon Moore talk about this attempt by visiting this site. The interview is subtitled (with the words appearing on the screen as you watch) and there is also a transcript available. To see what that first LCD watch looked like, go to this NPR story.
In this day and age (current time) when many people use their cell phones to check the time, do you still wear a watch? If so, why and what kind? Are you looking forward to seeing or owning a smartwatch?
– Jeff
Photo Credit: Seiko 35A from Wikipedia