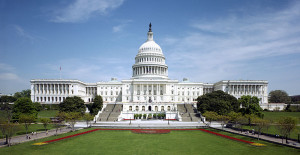 As you may have heard, the United States government has shut down (stopped working) because the Democrats and Republicans are in a standoff (where neither side will compromise or give up what it wants). Federal (national) government and many military (related to a country's security) offices and services are unavailable, national parks such as Yellowstone and Yosemite are closed, and federal workers are being furloughed (temporarily told to stay home from work).
At the heart of the matter (the main point or problem) is the new healthcare program passed in 2010 called the Affordable Care Act — often referred to as "Obamacare" — which offers people the chance to purchase health insurance who don't have or can't get health insurance in another way. The Republicans don't like Obamacare and propose delaying its implementation (the putting of a plan into action) for a year. The Democrats say no. In fact, the Affordable Care Act went into effect (started working) this week, on October 1. Since the two sides are in a standoff, they cannot agree on a budget (spending plan) for the government and that's the reason for the shutdown.
While politicians are battling it all out (fighting), some people have taken to (used as a way of communicating) Twitter with a little humor about this crazy situation. They've come up with some pickup lines (things you say to someone you've never met before to try to get him or her interested in you romantically).
Pickup lines are usually cheesy (with little value and considered of poor taste or unpleasant) and usually aren't very effective, and these are no different. I'll explain a couple that appeared in an NPR article, but some of them are just a little too risqué (with too much sexual content) for our blog. You can try figuring those out for yourself, if you want to.
"You're all the stimulus I need."
An economic stimulus is when the government does something to try to improve the economy, such as spending money on new projects to create jobs or cutting (lowering) interest rates (how much money you'll earn by keeping your money in the bank) so people will spend more money instead of saving it. "Stimulus" is also something that causes someone to feel more energy or excitement. I don't think I need to tell you what kind of excitement we are talking about here.
"Where have you been sequestered all my life?"
Sequester can mean to hide something somewhere so others can't find it or use it, but it can also mean to take assets (money or things worth money) from people until they pay their debt (money they owe someone else). Earlier this year, "budget sequestering" became a common term in American politics. Once again, the Democrats and Republicans were arguing about money. Budget sequestering means that if the Democrats and Republicans cannot agree on a budget, automatic spending cuts (reductions) in government spending occur as planned according to an earlier budget deal (compromise; plan). The Republicans wanted this to happen so that the government would be forced to cut spending, while the Democrats argued that cuts would eliminate (remove) or reduce (make less or smaller) important services to Americans and be bad for the economy. After a two month delay, the budget sequestration went into effect (occurred).
This pickup line is a play on (refers to in a amusing way to) the pickup line, "Where have you been hiding all my life?" meaning, I suppose, "I'm glad I've finally found you."
…
If you're trying to pick up an American girl (or guy), you could try these pickup lines, but I wouldn't hold out much hope (wouldn't expect success). These are some of the worst — though funny — pickup lines I've ever heard.
– Lucy
Photo Credit: United States Capitol – West Front