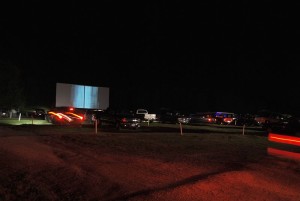 One of the first movies I saw at a theater was at a drive-in. I was eight years old and my friend Heather's older brother had the family car for the evening. He let us tag along (allowed us to go along) with his friends to see a movie. He drove onto the large drive-in theater parking lot, parked alongside (next to) one of the speakers (device used to project sound) which he removed from the stand (something holding something in place) and hooked (placed over the top using a piece of curved metal so it would stay in place) onto the car door so we could hear the audio (sound) in the car, and went to the concession stand (place where food and drinks are sold, usually at a movie, concert, or similar event) to get our popcorn and sodas. Then, the outdoor screen in front of us came alive and the movie started.
My first drive-in experience came at the tail-end (near the end) of the drive-in's popularity. In 1958, at the peak (highest point) of the drive-in craze (with a lot of enthusiasm for something), there were over 4,000 drive-ins in the United States. By the 1990s, many had closed, and today, there are about 350 drive-ins still in existence (remaining) in the U.S.
One reason for the slow demise (death) of drive-ins is rising (going up) real estate (buying of land and buildings) prices. Obviously, you need a large enough piece of land for cars to park to make enough money on each movie screening (showing).
Another major problem for drive-in owners is the switch (change) to digital projectors. Movie projectors allow film or digital images to be shown on a large screen. Movies used to be copied onto film for distribution (given to many people). Now, movies are distributed to theaters in digital form. One digital projector costs about $70,000 per (for each) screen, according to a recent Time magazine article.
Even with these major obstacles (problems in the way), some drive-ins are surviving (staying alive) and some are thriving (doing well). Some theaters are going upscale (with finer quality and appealing to pickier or more selective tastes) by offering quality beer and wine, and better food than the usual popcorn and candy. These theaters are located in urban areas and try to appeal to hipsters, people who follow the latest trends and fashions.
Do drive-ins exist where you live? Have you ever been to a drive-in? What is your favorite environment for watching a movie?
– Lucy
Photo  Credit: Hollywood Drive in New York from Wikipedia