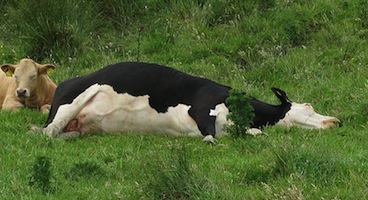 Some call it a prank (a trick you play on someone to make them look silly). Others call it an urban legend (something many believe although it may not be true). I say it's both. One thing is certain: it refuses to die (go away, disappear). What I'm talking about is cow tipping.
The tipping we're probably most familiar with is that small amount of money we give to people who do something for us. For example, I tip waiters, taxi drivers, cleaning staff in hotels, and the lady who cuts my hair.
The verb tip can also mean to move something so that it leans to one side. And if we tip something far enough, there may be some unexpected or unwanted results. Let me give you some examples: If I tip my chair back, it rests on two legs rather than four. And if I tip it too far, the chair and I fall over backwards. If I tip my cup of tea too far, the tea will spill out onto the table. And since we're talking about cows, many believe that The Great Chicago Fire of 1871 started when a cow kicked a lantern (a lamp that you carry), tipping it over so the burning oil spilled out and caused the hay (long dry grass used for feed) in a barn (farm building for animals) to burn. However, that may be another urban legend.
Cow tipping is the supposed (people say its true, but you don't believe it) activity of sneaking up on (approaching quietly so they don't notice) a standing, sleeping cow at night and pushing it over (off of its feet). Some even claim (say it's true) that if you do this, the cow can't get up again.
I was surprised when cow tipping became a hot (popular) topic on the Internet for a few days earlier this month. It seemed to be everywhere. The reason was an article – Cow Tipping: Fake (not real) or Really Fake? – by Jake Swearingen on the Modern Farmer website.
The writer's conclusion is simple: cow tipping does not exist. You can't sneak up on a standing cow, asleep or awake,  and tip it over. He gave several reasons.
First of all, cows don't sleep standing up. And even if they did, they have no trouble getting up again after they have been lying on their stomachs. In addition, cows are wary (cautious; alert) animals, so it's difficult to sneak up on them at any time.
Second, there's no evidence that anyone has ever done it. According to Swearingen, you can't even find an example of cow tipping on YouTube.
Finally, in 2005 two scientists from the University of British Columbia ran the numbers (did the mathematical ,calculations) to see if cow tipping is physically (using the laws of physics) possible. Their conclusion: it would take at least five people. Fewer might be able to do it if the cow was rigid (didn't move), but the possibility of tipping a real cow is very low.
No one's quite sure where the idea of cow-tipping got started. You'll find it, or something similar to it, in a few American movies and television programs. I remember it from my high school days. It was a popular prank to play on kids, usually from the city, who weren't familiar with cows.
So, if you're a city kid (someone who grew up in a city) and you visit someone who lives on a farm, let me give you a tip (small piece of advice): if they say, "Let's go cow tipping tonight!", smile and say "No, thank you.". That is, of course, unless you're too tipsy (drunk) to care and don't mind stepping in a few cow pies (manure; a flat, round piece of solid waste from a cow) while looking for that standing, sleeping cow that doesn't exist.
~ Warren Ediger – ESL tutor/coach and creator of Successful English, where you'll find clear explanations and practical suggestions for better English.
Photo courtesy of Wikipedia Commons.