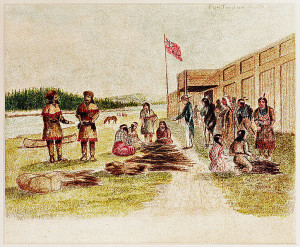 One of the most offensive (insulting) phrases that Americans still use today is, "Don't be an Indian giver." This refers to the idea that Indians ("Native American" is the term we use most often today) give gifts and then take them back. You may hear children calling their playmates (children they play with) "Indian givers" if they argue and take back toys they've shared or traded, and you may even hear the phrase in the media (such as newspapers and TV news) when talking about a divorcing couple where one side wants its expensive gifts back. This phrase is rooted (based) in negative and offensive stereotypes (images or beliefs about an entire group that are usually untrue) about Native Americans and it may have all started with a cultural misunderstanding.
When white explorers (people who travel to a place few have traveled to before) such as Lewis and Clark, two of the first people to travel to what is now the western part of the United States, met Native Americans for the first time, Lewis and Clark were offered gifts. When the explorers, and later the white settlers (people who move to a place where few people live), were given gifts by Native Americans, they may have thought, "Oh, that's nice. They're giving me a present."
However, from the Native American's point of view, they weren't just doing something nice to welcome a new visitor. They were doing business, the business of trading. They were bartering, which is when you give something of value to someone in exchange for something of value in return (not money).
For the whites, a gift was a gift. You don't have to give anything in return, at least not immediately, and personal gift-giving was not mixed with business trading. The two were entirely different things.
To the Native Americans, they were beginning a business transaction, with the expectation that they would get something in return of value. When they did not, they did what any business trader would do: they took back their "gift."
By doing this, the Native Americans, from the whites' point of view, were being deceptive (saying something but doing something else). To the Native Americans, the whites were not holding up their end (doing what is expected or required) of the business deal. That's the cultural misunderstanding a recent National Public Radio story explains is at the root of (underlying; behind) this phrase.
Are you aware of any cultural misunderstandings that have given rise to (started; been the source of) terms or phrases people use today to describe different people or groups?
— Lucy