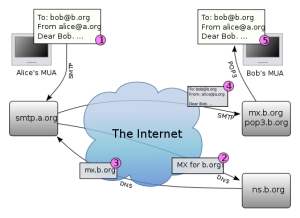 When we die, our car, home, jewelry, and personal belongings go the people named in our will, the legal document that states how our personal property is distributed or given to other people and organizations after we die. In our wills, we name (identify) an executor, who is responsible for carrying out (making happen) our wishes after we're gone. (For people who die without writing a will, there is a process called "probate," in which the government decides what happens to your assets (things you own that are worth money)).
But who owns our email, Facebook accounts, information stored in a cloud server (shared digital storage), blogs, online shopping accounts, photo-sharing accounts, and other digital information? Right now, in most states in the U.S., the companies that host them do, such as Google and Facebook.
Most of the digital information online is governed by (must follow the rules or laws of) the company that houses (provides space for) that information. The trouble is, there is little or no uniformity (being the same or consistent) across company policies. Only a few U.S. states — five so far — have passed laws to help clarify (make clear) what happens after death and there is a need for laws to catch up with (try to reach the same level or place as) changing technology.
Right now in the U.S., the Uniform Law Commission (ULC) is working to come up with a set of federal (national) laws that would help with this confusing situation. The ULC is not a part of the U.S. government. It is a non-profit (not intended to make money) organization with representatives from all 50 states, plus the District of Columbia (Washington D.C.), Puerto Rico, and the U.S. Virgin Islands. The ULC does not make laws, but it recommends language that legislators (lawmakers) can use to create laws.
Have you considered what will happen to your digital information after you die? Should your executor have access to it, just like your other personal things? Are there laws where you live to govern access to that information?
~ Lucy
Graphic Credit: Email from Wikipedia