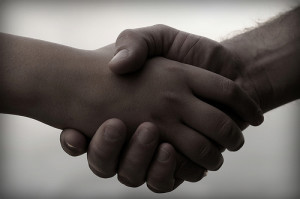 Let's talk about a business headline today. This one comes from a recent issue of Bloomberg Magazine, one of the largest business magazines in the United States. Here's the headline:
A Modest Step Toward a Grand Bargain
The news story is about the president of the United States trying to negotiate (work out; come to an agreement over) a deal (agreement) with Congress. In the U.S. political system, as you probably know, Congress is a group of elected representatives in charge of (responsible for) passing or approving laws. After Congress approves a new law, the president has to sign or agree to the law. (It doesn't always work exactly that way, but that's the normal process.)
Now, one of the problems that we have in our modern American economy is the same as in many economies: how much should people pay in taxes? That is, how much money should businesses and individuals have to pay the government for the government to do its job?
The headline is about negotiations between the president and Congress. It begins with the words "a modest step." The adjective modest usually refers to a person who is humble, a person who doesn't brag, a person who doesn't like to talk about himself or herself. If someone compliments (says something nice about) a modest person, that person might say, "Oh no, that's not really true. I'm not very good at that."
In the headline, "modest" is used to mean something slightly different. It means a very small amount of something. In this case, we're talking about how much progress is being made toward a certain goal. A step is normally a movement of your feet, moving one leg in front of the other to walk. You have to take steps in order to walk, but we also use that expression, "to take steps," to mean to make progress, to do things.
So, a modest step is a small amount of progress toward some destination, some goal. The goal in this case is a grand bargain. The word bargain can have a couple of different meanings. One meaning for bargain is a good deal, a cheap price for something that you're buying. But a bargain can also be an agreement. To make a bargain is to agree to do something. That's the meaning that is used in the headline.
Finally, we come to the word grand. "Grand," like modest and bargain, has a couple of different meanings. Here, it means something important, something large, something that is very complex and complicated that is going to solve a lot of different problems at once.
This phrase, "a grand bargain," is actually quite common in American politics. You will see it in reading about American history, usually to describe how different political groups come to some agreement that solves a lot of  important problems.
In our story, the president and Congress are trying to come to a grand bargain about how much people should pay in taxes. I'm not sure how exactly it will all work out (what the specific result will be), but I'm guessing that whatever they agree to, it won't be a bargain (good deal) for American taxpayers.
~Jeff
Photo credit: Peaceful Resolution by Nomadic Lass, Flickr CC