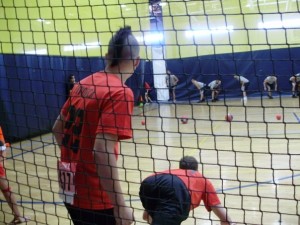 I remember playing dodgeball when I was in elementary school. All of the players are divided into two teams. Each team stands in a straight line facing (standing opposite and looking at) each other with a large space between the two teams. One member of a team takes a large heavy rubber (thick flexible plastic) ball and throws it at the other team members, hoping to hit a player. If a player is hit, he or she is out of the game. If the player catches the ball, then the thrower (person throwing the ball) is out. That's how dodgeball was played in my school.
Few playground games require its players to throw something as hard as you can, with the intention (purpose) of hitting the other players. And who are the targets (things or people you want to hit)? They're not the big, tall, fast athletic players. They're the short, weak (not strong), slow players. So in dodgeball, the littlest players are the most often hit. I was little. I got hit a lot. I hated dodgeball.
In recent years, however, dodgeball has made a resurgence (increasing in popularity after a period of little activity or interest), not among children, but among adults. Adults are forming recreational (for fun) dodgeball teams and playing in leagues (group of teams that play and try to beat each other).
These games are very different from the schoolyard (area where you play near a school) games of dodgeball. While the teams may want to win and some players take it very seriously, for many leagues, it is only partly about competition (trying to beat other players or teams). A large part of the appeal (attraction; interest) is social (relating to other people) – meeting people, having fun, and being a part of a social group.
For this reason, some of the teams have silly (funny) names, have a mix of men and women, include longtime athletes and people who have never played sports, and often end in some social activity, such as having a drink at the local bar. Some teams even play in silly costumes (clothes to make you look like someone or something), with loud music playing in the background.
Dodgeball has become so popular among adults in some cities that there was even a comedy film made about it in 2004 called DodgeBall: A True Underdog Story. (An underdog is a competitor who isn't expected to win.)
I've read that dodgeball has become popular in other countries. Is dodgeball popular where you live? In your city, are there recreational adult teams and leagues that play games or sports not normally played competitively?
~ Lucy
Photo Credit: NDL amateur game from Wikipedia