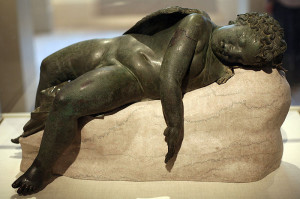 A recent survey (questionnaire) about Americans and sleep reported in the Los Angeles Times found that we don't get enough sleep. About 85% of Americans say they don't get a good night's sleep on a regular basis (normally).
Here are the top reasons why these approximately 1,000 American say they don't sleep well.
48% – Stress and anxiety (pressure and worry)
47% – Failure (unable) to turn off their thoughts (stop thinking about things)
38% – Pain interferes with (stops from happening) sleep
32% – Too overtired (too tired) to rest
23% – Background noise interferes with sleep
23% – Children or pets interferes with sleep
18% – Breathing problems interferes with sleep
17% – Spouses (husbands or wives) or significant others (boyfriends or girlfriends) interfere with sleep.
Interestingly, women have more trouble getting a good night's sleep than men, 88% versus 78%. Not surprisingly, low-income (earning little money) adults report more sleep problems than more affluent (wealthy) adults, with stress and anxiety and pain being the most frequent reasons cited (mentioned; given). But regardless of how much money Americans make, we are equally likely to be bothered by children, pets, and our own thoughts.
Based on these results, it seems to me that to get better sleep, we — especially women — should get rid of (remove; don't have anymore) pets, children, and spouses. That might also help reduce (lower) stress and anxiety.
Do you get enough sleep on a regular basis?  What prevents you from catching some z's (getting some sleep)?
~ Lucy
Photo Credit: Bronze Statue of Eros Sleeping from Wikipedia