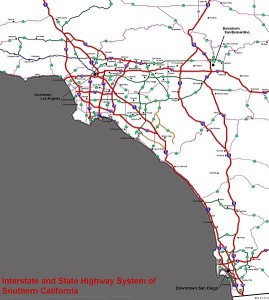 L.A. is number one! L.A. is number one!
People living in Los Angeles often boast (brag; tell others how great they are) about the good things in this city: the beaches, the weather, and the interesting sites.
Well, there are benefits to living in Los Angeles, but there are many drawbacks (negative things). One of them is traffic.
In a recent annual (yearly) report on the most congested (blocked; difficult to move around in) cities in the United States, Los Angeles is number 1 — again.  While Los Angeles has topped (been at the top of) the list before, Honolulu, Hawaii, topped the list last year. But L.A. has that dubious honor (having being selected for something that one doesn't want) again.
According to the report, L.A. drivers spent an average of 59 hours sitting in traffic in 2012. On Friday afternoons when the traffic is at its worst, drivers take an average of one hour to get home.
It's true that L.A. shares these "honors" with other California cities. San Francisco is third on the list and San Diego, a city about a two-hour drive south of L.A., is seventh on the list.
Unfortunately, traffic is expected to get worse as we go through 2013. This is, of course, bad news, but there is a silver lining (something good resulting from something bad). A major reason for the worsening (getting worse) traffic is that employment (how many people have jobs) is going up. As jobs get added, more people travel on L.A. roads to get to and from work.
You may be saying to yourself, "Why don't Angelinos (people living in Los Angeles) use more public transportation (such as buses, trains, subways)?" The city IS trying to make strides in (improve) public transportation options. However, part of the problem is inherent in (part of the basic nature of) the geography of the city of Los Angeles.
The city of Los Angeles is about 500 square miles (1,300 square kilometers), but the larger area where people live and commute from (travel to and from work from) — the county of Los Angeles — is approximately 4,000 square miles (10,000 square kilometers). In contrast (showing the difference), for example, the city of Paris, France, is about 40 square miles (100 square kilometers) and the larger Paris urban area is about 1,000 square miles (2,800 square kilometers).
How do you create a public transportation system that encompasses (includes in area) the entire Los Angeles area?
Okay, enough about L.A. Are there transit (transportation) problems in the city where you live? What are some proposed solutions? How do people cope with (live with) these problems?
~ Lucy
* The title of this post is a play on (a version of) some lyrics (words in a song) of a 1988 song called "Walking in L.A." by the Missing Persons that goes:
Walking in L.A.
Walking in L.A.
Nobody walks in L.A.
Graphic Credit: Socalfreewaysystemwiki from Wikipedia