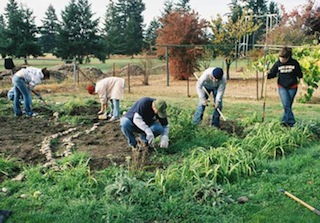 Seedfolks, a book by Paul Fleischman, was always a hit (very popular) with my adult ESL students. Here's how the publisher describes it:
A vacant lot (empty property), rat-infested (full of rats) and filled with garbage, looked like no place for a garden. Especially to a neighborhood of strangers where no one seems to care. Until one day, a young girl clears a small space and digs into the hard-packed soil to plant her precious bean seeds. Suddenly, the soil holds promise (feeling that something good will happen): To Curtis, who believes he can win back Lateesha's heart with a harvest of tomatoes; to Virgil's dad, who sees a fortune (a lot of money) to be made from growing lettuce; and even to Maricela, sixteen and pregnant, wishing she were dead.

Thirteen very different voices — old, young, Haitian, Hispanic, tough, haunted (worried and frightened), and hopeful — tell one amazing story about a garden that transforms (dramatically changes) a neighborhood.
Community gardens, like the one described in Seedfolks, are growing in popularity. A community garden, according to the American Community Gardening Association is simply "any piece of land gardened by a group of people…. It can be urban (in the city), suburban (away from the city center), or rural (outside of the city). It can grow flowers, vegetables, or community (feeling of good relationships among people)."
Most community gardens have been created to make it possible for gardeners to grow food. Others have helped restore (return) beauty to blighted (ugly, rundown, ignored) neighborhoods or add beauty to existing neighborhood parks. But the recreation (pleasure), exercise, therapy, and education gardeners receive from the experience may be the greatest benefit of all. A city in California is counting on (depending on, especially in a difficult situation) these benefits to help members of its community.
Fresno is the largest city in California's Central Valley, which is filled with farms, dairies (a farm that produces milk), and orchards (a place where fruit trees are grown). More than half of Fresno's population is made up of minority groups of people. Most of these are immigrants. Many are refugees, people who have left their countries to escape dangerous or difficult situations.
The city of Fresno, with help from the state government, has created seven community gardens for these people. A recent New York Times article reports that community leaders believe the gardens can encourage and help these people, especially older ones, recover from their experiences. Older immigrants are often isolated (feeling alone and not able to meet or speak to other people) by language and poverty and experience depression and stress. Are these gardens helping? The gardeners interviewed by the Times say "yes."
Mee Yang, a 65-year-old Hmong refugee from Vietnam, told the Times that she suffered from diabetes and depression and worried that she wouldn't have enough money to live on. The garden "is my happiness," she says. "You feel the world in this place, and it brings you back home." Arminder Sing, a young Indian gardner who used to be a gang member, says his grandfather and the other older men encourage him and make him feel stronger as they work side by side. And Lee Lee, another Hmong refugee, says that working in the garden "lightens the load" and "brings peace, so I do not forget who I am."
Are there community gardens where you live? Have you ever helped with one?
If you want a first-hand (personal) community gardening experience, read Seedfolks. Share the experience with Curtis, Lateesha, Virgil, Maricela, and the others. You'll be glad you did. It's especially good for intermediate-level readers.
~ Warren Ediger – English tutor/coach and creator of the Successful English web site.
Photo courtesy of Wikipedia Commons.