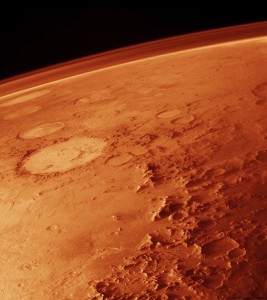 A few weeks ago, a private Dutch company announced a plan to send people to the planet Mars. The plan, called Mars One, will send a group of people to travel to and live on Mars, but this is a one-way (without a return) trip. The people who go there will live the rest of their lives in an inflatable (able to be filled with air) habitat (place to live). Who are these "lucky" astronauts (people who travel into space)? People like you and me.
While this is not the first initiative (plan) to place people on Mars, it is the first that hopes to be completely financed (paid for) by sponsors, people and companies that give money to make something happen.
These sponsors are investing in a very unique (not like any other) reality show. On TV in recent years, we have had reality shows (television programs where "regular" people try to win some prize for their talent or abilities) that select the best singers (such as American Idol and The Voice), the best survivalist (able to stay alive under difficult physical conditions) like Survivor, and the best dancers (like So You Think You Can Dance). Why not select the best astronaut?
The organizers of Mars One plan to build reality shows around the selection of the people who will travel to Mars, the launch (sending into space of the spacecraft), and the landing (arrival of an spacecraft on the surface). The price tag (cost) is estimated to be $6 billion dollars ($6,000,000,000,000).
If you're the adventurous (liking excitement and new activities) type, you can apply for this one-way mission (travel into space) by going to the Mars One website. You can upload (put on the website) a picture and a profile (set of information about you), and people who visit the website can rate (show their approval or disapproval of) you.
As I skimmed (looked quickly through) the profiles, I saw that applicants so far are from many different countries, but nearly all of them have something in common: they list English as their language. Why? Because although the project accepts people from any country, who can apply in 11 languages including Spanish, Portuguese, French, German, Russian, Arabic, Chinese (Mandarin), Korean, Indonesian, and Japanese, the official language of the project is English. So if you hope to be one of these "lucky" astronauts, you are already one step ahead of the game (have an advantage).
Would you ever consider traveling and living on another planet, with no hope of returning to Earth?
~ Lucy
Photo Credit: Mars atmosphere from Wikipedia