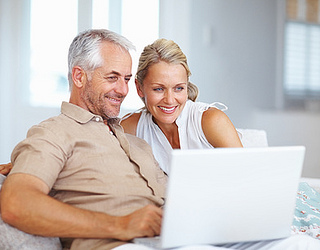 A few weeks ago Jeff asked "What does it mean to be happy?" Today I'd like to ask a related question – what makes us happy? – and find an answer in an unusual source.
Seventy-five years ago, in 1938, a group of scientists at Harvard University began a study of more than 250 young men. The goal of the study, called the Grant Study, was to try to discover what factors (something that causes or influences a situation) contribute to (help make something happen), or keep people from, becoming and enjoying life as healthy adults.
The study continues today even though many of the men have died and those who are still alive are in their late 80s or early 90s. For all those years, these men have had regular medical examinations, taken psychological tests, filled out questionnaires, and sat for interviews. The Grant Study is one of the longest-running and most complete studies of mental and physical health in history.
Last year, Dr. George Vaillant, who directed the study for more than 40 years, wrote a book called Triumphs of Experience. In it he documents (reports) what it is like to flourish (do well) later in life.
According to Vaillant, relationships matter the most (are the most important). There is a strong correlation (connection) between the quality of all your relationships and your health and happiness as you get older. This is especially true of your relationships with your parents. The warmth (affection, kindness, love) of your relationship with your mother matters well into adulthood and affects many areas of life. And the warmth of your relationship with your father becomes more important as you grow older. For example, a warm relationship with your father helps reduce anxiety (the feeling of being worried) and contributes to increased satisfaction with life even when you're 75 years old.
Vaillant reports that the habits we develop before we're 50 and how we respond, or react, to the experiences we have as we mature (become adults) help determine our success and satisfaction as we grow older. Some of the greatest triumphs (victories or achievements) in the study were enjoyed by people who experienced the greatest difficulties. What we do when we face (experience) pain, conflict, or uncertainty, says Valliant, is more important than avoiding them. In the study, those who responded positively and creatively to life's difficulties were able to turn those difficulties into triumphs.
The most destructive (damaging) factor uncovered in the study was excessive (too much) drinking. It was the main cause of divorce, contributed to depression and mental problems, and, along with cigarette smoking, often led to early death.
Now, what about happiness? The study doesn't define happiness, but it's easy to infer (form an opinion from available information) a meaning of pleasure, satisfaction, or contentment. The study reveals a strong connection between the warmth of your relationships and health and happiness as you grow older. When asked what he had learned from the Grant Study, Vaillant replied that "the only thing that matters in life are your relationships to other people … Happiness is love."
~ Warren Ediger – English tutor/coach and creator of the Successful English web site.
Photo by SalFalko used under Creative Commons license.