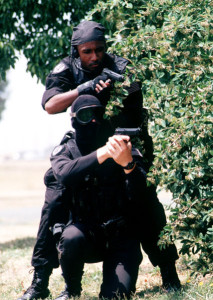 I feel sorry for celebrities. All of that wealth (money), admiration (people liking and respecting you), and influence. What a sad life.
And there is now a new reason to pity (feel bad for the suffering of) celebrities. They're being "swatted."
To swat someone is to pull a prank (play a joke) on them by getting emergency services such as the police, ambulance services (emergency vehicle to take you to the hospital), or firefighters to go to someone's home when there is no emergency, often in the middle of the night or another inconvenient time. Usually, an anonymous (identity not known) caller calls 9-1-1, the emergency services phone number, and reports some type of problem or emergency. When the emergency vehicle arrives at the address, they find no emergency. Not only does this waste (use for no purpose) taxpayer money (money paid by citizens for public services) and tie up (occupy) emergency services, it's a nuisance to the person they're trying to "help."
The term "swatting" is a relatively new one and comes from the acronym (word made from the first letter of a phrase or group of words) SWAT. SWAT stands for Special Weapons And Tactics. (Weapons  are tools we use to hurt each other, such as guns and bombs, and tactics are actions or strategies we carefully plan and use to defeat the enemy).
A SWAT team is a special group of police officers who operate like a military (army) unit and are called in (summoned; used) for difficult, high-risk, and dangerous operations that regular police are not trained to handle, such as hostage situations (where someone is holding one or more people and not letting them leave, usually threatening them with violence, unless the hostage-takers' demands are met). The idea behind swatting is to bring a large number of police — or other emergency workers — to a place quickly and to create an emergency-type situation where none really exists.
Swatting is actually against the law, since you can be arrested (taken in by the police) if you report something to the police that isn't true. However, with the technology of today, swatters use techniques that make it difficult for their reporting to be traced (followed to the source).
Many celebrities have been the victim of swatting, including the singers Rihanna, Justin Bieber, and Sean Combs (also known as Puff Daddy, P. Diddy, or just Diddy). Actors Tom Cruise, Miley Cyrus, and Ashton Kutcher have also been victims of swatting.
Too much money, too much admiration, and now swatting. I'm more grateful than ever that I'm not a celebrity.
Does swatting exist where you live?  Are there laws against it?
~ Lucy
Photo Credit:  Members of the 60th Security Police Squadron's Base Swat Team from Wikipedia
P.S. Thank you for all of the birthday wishes. It "takes the sting out of" (makes it less painful) getting another year older!