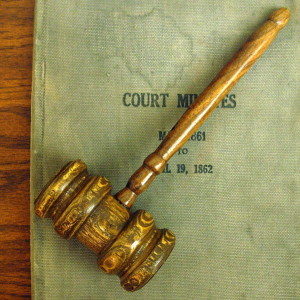 If there is one group of people you don't want to anger, it's lawyers.
Right now, there is a class-action lawsuit (many people working together to sue) of recent law school graduates (people who have completed their degree) against their own law schools. They say that law schools falsely claim (say something that isn't true) high employment rates (percentage of people working) of over 90% within a short period of time after graduation. In reality (in truth), they say, graduates aren't working as lawyers and many not even in full-time jobs. They are working as salespeople, in restaurants, and not in their chosen field (area; type of) of work.
The litigants (people suing) not only claim that law schools inflate (make larger than something really is) employment rates to lure (attract) new students. Schools also do it to improve their rankings (positions among others) in lists of the best law schools in the country. They claim that law schools routinely (done all the time) misrepresent (show something to be different than what it really is) information, including starting salaries (money earned when you first get a job).
This is a difficult time for new college graduates in the U.S. With the economy in poor shape (condition), many are finding it hard to get jobs. Making it more difficult are the student loans the graduates took out (obtained; got) to pay their tuition (money charged by schools to attend).
Five of the law schools being sued are in California. Each of these five law schools charges about $40,000 a year for tuition, and it normally takes three years to complete a law degree if you're a full-time student. After graduation, students only have a short time before they have to begin paying back their student loans.  With over $100,000 of debt (money owed), these law school graduates are particularly angry that they can't get jobs as easily as the law school's promotional materials (materials used to get someone to buy or to be interested in something) suggest. Now they're taking their case to court.
In many ways, the law profession is changing. According to a recent Los Angeles Times article, more and more tasks traditionally (normally; usually) done by lawyers are now being done by, or are made easier with, computers. It used to be that lawyers spent many hours in the law library looking up previous cases and getting other legal information. With the online services and electronic databases now available, these long hours spent — and those who worked them — are no longer necessary.
Online companies have also made it possible for people like you and me to file (to send or submit to some authority) routine legal documents ourselves, without the help of a lawyer.  Experts (people with a lot of knowledge about a subject) say that even when the economy improves, there will still be a glut of (too many) lawyers working in all 50 states.
What is the state of the legal profession (jobs related to the law) where you live? Are there professions (types of jobs) where things are changing quickly, leaving many out of work?
~ Lucy
Photo Credit:  Court Gavel from Wikipedia