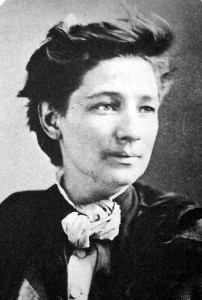 While other nations around the world have, in recent years, welcomed their first female (woman) national leader, the United States still has not had its first female president. It's not for the lack of trying (not because they haven't tried) — just ask Hilary Clinton. However, Clinton was certainly not the first woman to run for president. That woman was Victoria Woodhull and she ran for president in 1872.
Victoria Woodhull was a colorful character (having had many experience, some good, but many bad or controversial). Woodhull was a suffragette, someone who championed (tried to get support for) women's rights. She also believed in what she called "free love," the ability to marry and have children without the government's interference or involvement.
(I should point out here that "free love" in the 1960's was an entirely different thing.  Young people in the 60's who talked about free love believed that people should be able to have sexual relationships with whomever they wanted, regardless of (without caring about or being restricted by) marriage or other long-term relationships.  That's not what Woodhull meant by "free love.")
She was nominated to run for president by a newly-formed (just started) political party called the Equal Rights Party.  This Party also nominated (suggested; volunteered) Frederick Douglas for the vice-presidency. Frederick Douglas was a well known and well respected African American abolitionist (person fighting against slavery). Douglas actually never acknowledged (recognized) the nomination, but his nomination itself gave rise to (resulted in) a lot of controversy because it meant mixing races in one organization.
Woodhull did not get any electoral votes and it's unclear how many popular votes (votes of individuals) she received. There was also some controversy because she was not yet 35 years old at the time of the election, which is the minimum age to become president. But according to the news coverage (news stories) at the time, this was not a major issue.
During Woodhull's lifetime, she did many "firsts," in addition to being the first female presidential candidate recognized by historians (people who study history). She and her sister were the first women stockbrokers (professionals who buy and sell stocks) and opened their brokerage firm (company that invests people's money in the stock market) on Wall Street (the main area in New York City where stocks are traded) in 1870. She and her sister also published a newspaper called Woodhull & Claflin's Weekly, which included stories about many taboo (not accepted by society) topics, such as sex education and spiritualism (the belief that people can communicate with the dead).
Perhaps Woodhull's views about marriage and her work toward women's rights had to do with her first husband, whom she married when she was just 15 years old. He was a much older man who was working as a doctor, though his credentials (qualifications) were dubious (doubtful; not to be trusted). He was an alcoholic (addicted to alcohol) and a womanizer (had romantic/sexual relationships with many women), and Woodhull divorced him. At that time, divorce was not common and the woman in a divorce was stigmatized (disapproved of by society) and ostracized (not allowed to join society).  Woodhull would marry three times in total and died living in England at the age of 88.
As I said, Woodhull was a very colorful person, but her life was anything but (definitely not) dull (boring).
~ Lucy
Photo Credit: Victoria Woodhull from Wikipedia