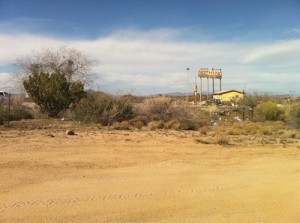 American cities and towns get their names from many sources. It's clear where cities like Lincoln, Nebraska; Jefferson City, Missouri; Cleveland, Ohio; and Jackson, Mississippi get their names — from the names of American presidents: Abraham Lincoln, Thomas Jefferson, Grover Cleveland, and Andrew Jackson.
Other city or town names come from the original inhabitants (people who live there) or the origins of the immigrants or migrants (people who move from one part of a country to another) who moved there, such as New York and New Mexico.  And still other towns are named for their functions or unique geographical features (special features of the land).
But some U.S. cities have truly strange and inexplicable names. Some of these are very small towns and communities.
In the state where I grew up — Arizona — there is a town called Nothing. Established (created) in 1977, this is truly a small town, with only four residents (people living there) now. However, those residents have a very good sense of who they are and what they represent.  One town sign reads (says):
Town of Nothing Arizona. Founded 1977. Elevation (position above sea level) 3269 ft.
The staunch (loyal) citizens of Nothing are full of Hope, Faith, and Belief in the work ethic (the idea that hard work is good and will bring good results). Thru (through) the years, these dedicated (devoted; committed to a purpose) people had faith (belief; confidence) in Nothing, hoped for Nothing, worked at Nothing, for Nothing.
The people of Nothing also have a good sense of humor.  The last sentence include several puns, jokes based on a word or phrase having more than one meaning.
"To have faith in nothing" normally means to believe in nothing.  "To have faith in (something)" usually means to have confidence in it and believe that it will do what it says it will do.  For example:
– "Julia doesn't have faith in her car's GPS system. She prefers to use a paper map."
– "Ken has faith in his children's honesty and know that they wouldn't tell a lie."
"To hope for nothing" usually means to expect or wish for nothing:
– "Based on her past experience, Mandy knew to hope for nothing from her boss even if she asked for help."
– "Gil hoped for nothing when he moved to the new town, but has actually made a lot of friends."
"To work at nothing" means to be aimless and not put your time and energy into achieving anything.  For example:
– "After years of working at nothing and living at home with his parents, Don finally went back to school, completed his degree, and got a job."
– "When Sophie retires, she plans to work at nothing and just enjoy her free time."
Finally, "for nothing" normally means with no result:
– "I worked on this old car for nothing. I couldn't get it to work."
– "Sam cleaned the house for nothing. His family didn't even notice his hard work."
Before reading about Nothing, I had never heard of this town. Now, I'm intrigued (interested).  If I ever stop there for a visit, I'll know to expect Nothing.
Are there towns with unusual names where you live?
~ Lucy
P.S. The title of this post "What's in a name?" is a line from Shakespeare's play Romeo and Juliet uttered (said) by Juliet:
What's in a name? That which we call a rose
By any other name would smell as sweet.
Juliette means, of course, that a name isn't important.  If a rose were called by a different name, it would have the same good scent or smell.
Photo Credit:  Nothing, Arizona from Wikipedia