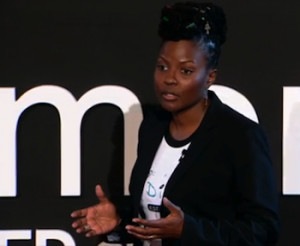 I remember hearing this statement from an early American writer and religious leader when I was in high school:
"I am only one, but I am one. I cannot do everything, but I can do something. What I can do, I should do. And what I should do … I will do."
I had almost forgotten it, but they came to life for me recently when I heard the story of Angela Patton.
Angela studied to become a nurse and doula, someone who helps women and their families during and after the time a baby is born. A few years ago, Angela created a program called Camp Diva that, according to Angela, "helps girls of African descent (nationality; where your family originally came from)" prepare to become healthy young women.
One day one of Angela's girls began to complain because her father kept checking up on (to find out if she's doing what she should be doing) her. "You're lucky," said Jasmine, one of the other girls. "I haven't heard from my dad in years."
For Angela that was an "Aha!" moment – a moment when you suddenly understand something or come up with an important idea. At that moment Angela understood in a new way how important it was for girls to connect with (have a good relationship with) their fathers.
She thought about what the girls had said, then asked, "How can we help other girls develop healthy relationships with their fathers?"
"Let's have a dance," one girl shouted. The others agreed, and the planning began – decorations, invitations, what to wear, what their fathers should, or shouldn't, wear. Angela says she's learned that these girls "know what they need." And she's learned that if you give them some structure (organization), mentoring (guidance), and resources, they can build what they need and thrive (do very well).
The night of the dance came and so did most of the girls and their fathers, all dressed up for the occasion (event). Angela says, "They acted sweet. They acted silly. They really enjoyed each other's company (being with each other). It was a huge success. And the girls decided to do it every year."
A year went by, and soon it was time to plan the next dance. But as they began, Brianna told the other girls that "My dad can't come to the dance, and this whole thing is making me sad."
"Why not?" the others asked.
"Because he's in jail."
Angela says that she thought for a moment, then asked the girls, "What do you think we should do about this?"
The girls were quiet, then one of them suggested, "Why don't we just take the dance in the jail?"
And that's what they did. The girls sent a letter to the sheriff (an elected law officer) in charge of the jail, asking him if they could have a dance there. And he said "Yes!" because he knew that fathers who are connected to their children probably won't return to prison.
Almost 20 fathers and their daughters attended the dance in the jail. The girls wore their nicest dresses, and the fathers wore shirts and ties rather than (instead of) their jail uniforms. The girls and their fathers hugged each other and laughed. They enjoyed a catered (prepared somewhere else and brought in) meal. And they danced. It was so beautiful, Angela says, that even the guards cried.
Before they went home after the dance, the girls and their dads used small digital video cameras to record their feelings and thoughts so they could better remember the evening.
Angela Patton is only one person, but she has certainly done something very special for her girls and their fathers.
If you want to listen to Angela tell her story, you can find it here. If you do, click on "Show Transcript" below the video window and choose "English" so you can listen and read her story at the same time.
~ Warren Ediger – English tutor/coach and creator of the Successful English web site.
Photo credit: Angela Patton, TED Talk, CC