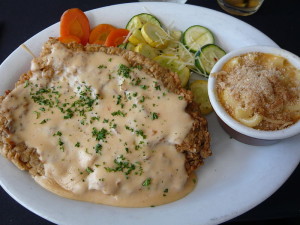 A few weeks ago, I talked about American-style pizza, which is as popular here in the U.S. as hamburgers and French fries. Another dish that has a borrowed beginning (started somewhere else), but that people consider American, is the chicken fried steak.
Despite its name, there is no chicken in chicken fried steak. Chicken fried steak is a breaded cutlet: a thinly-sliced (cut with a knife) piece of steak (beef; cow meat) that has been coated (covered on the surface with) flour (powder you get from grain) and then pan-fried (cooked in a pan with a little hot oil). It is served with a cream gravy (light-colored thick sauce made with milk or cream) on top of it and usually with mashed potatoes on the side. Typically, you also eat it with a biscuit, a small, round piece of bread that you can use to sop up (for a liquid to be put on or soaked into bread for eating) the leftover (remaining) gravy.
Why is it called chicken fried steak if there is no chicken in it? The name comes from the preparation of the meat, which is similar to how fried chicken is made.
Chicken fried steak is very popular throughout the U.S., but it is considered Southern food, from the southern part of the United States. Two different towns in Texas claim (say without proof or evidence) to be the birthplace (place something is born or created) of the chicken fried steak, and one of the towns even has an annual (yearly) celebration of the dish (type of food).
No one really knows the origins (beginnings) of the chicken fried steak, but some people believe that it was brought to the U.S. by German and Austrian immigrants (people who move to a country to live) who cooked a similar popular dish called Wiener Schnitzel.  If it's true, then the dish probably got a name change in the 1930's, perhaps due to anti-German opinions leading up to World War II.
Sometimes this same dish is called "country fried steak" and the light-colored gravy is referred to as "country gravy." The "country" part of the name refers to this dish being a Southern or rural (not city) dish, giving it a more homey (comfortable and cozy) kind of feeling. You'll find this dish most often in casual American sit-down (not fast food) restaurants and diners (casual restaurants that serve sandwiches, hamburgers, and other casual food and are often open long hours). In addition to having it at lunch or dinner, you'll also see it sometimes on the breakfast menu, served with eggs and bacon.
Is there a similar dish where you live?
~ Lucy
Photo Credit:  Chicken fried steak from Wikipedia