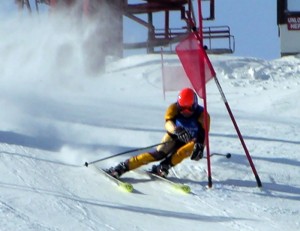 When you think of California, you think of snow, right? Well, maybe not. But California actually has about 30 ski resorts, vacation places that cater to (is built for; is intended for) skiing (see photo).
There is a popular ski resort area only two hours from Los Angeles called Big Bear. I've skied there before. Okay, in my over 20 years in Los Angeles, I've skied there three times. But other Angelinos (people who live in Los Angeles) frequent (visit) this area a lot during the winter months for skiing, snowboarding (going over snow on one wide board), and other winter sports.
But in some years, the weather does not cooperate. According to a recent Los Angeles Times article, the 2011-12 ski season had the lowest national snowfall in 20 years, which caused many of the resorts to open later in the season or close early. During these less-than-perfect (flawed; not good) years, the temperatures don't get cold enough and there isn't enough precipitation (wet weather).
So what do you do if you own a ski resort in dry, warm, unpredictable (unreliable) California? Well, if nature won't provide what you want, make it yourself.
More and more, ski resorts here are investing in (paying money now to earn more money in the future) snow-making systems, and those systems are more sophisticated (fancy and complex) than ever. You can even control your snow-making system using your computer or smartphone these days (now). And while snow making used to be a difficult, labor-intensive (using a lot of workers and time) process, it's much less work nowadays.
So unless those of you who live in places with surplus (more than you need) snow can transport (move) some of it to California, many Californians will likely ski more and more on artificial (not real) snow. We here in Los Angeles are used to artificial things, so we probably won't notice.
Are you enjoying snow where you live? Do you ski or participate in other winter sports? What do you think of artificial snow?
~ Lucy
Photo Credit: Wilmot-ski-racer-cmsc.jpg from Wikipedia