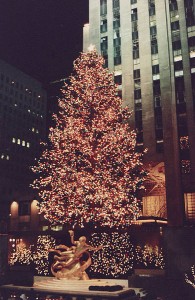 One of the most well-known symbols (images representative) of Christmas is the Christmas tree.
The Christmas tree in the U.S. that gets the most attention each year is the one at the Rockefeller Center in New York City. Each year in late November or early December, a very large tree between 69 to 100 feet (21 to 30 meters) is erected (put up) at the famous Rockefeller Center. It is decorated (with objects placed on it to make it look nice) with 30,000 lights on wiring (lines that bring electricity) that is about five miles (8 kilometers) long. The star that is placed at the top of tree is nearly 10 feet (3 meters) wide and weighs 550 pounds (250 kg). The tradition of lighting the tree — turning on the lights for the first time — is usually shown on television during a special Christmas show.
For regular folks (normal people) who celebrate Christmas, we simply go out to one of the Christmas tree lots (large outdoor areas) that are in business for a few weeks in late November through December to buy our  Christmas trees. Families like to decorate the tree with ornaments (small balls, figurines, stars, and other small items that are hung with a string), tinsel (thin strips of shiny metal material), strings of popcorn (corn kernels popped at high temperature and placed on a long string), and strings of electric lights. In recent years, it has become more and more popular to buy potted (in a container) Christmas trees that still have their roots (the part of a plant that attaches to the ground) and can be planted after the holiday, so the trees aren't wasted.
I'm thinking of getting a potted tree this year, but I'm having second thoughts (doubts) because I don't have a green thumb (am not a good gardener), and the chances of a tree surviving (staying alive) under my care are pretty slim (small). All of my other plants in my house are cacti and succulents, and even they aren't looking too healthy. I guess, for the good of the potted tree, I'll stick to (remain with) my little plastic Christmas tree again this year.
~ Lucy
Photo Credit: Rockefeller Center Tree from Wikipedia