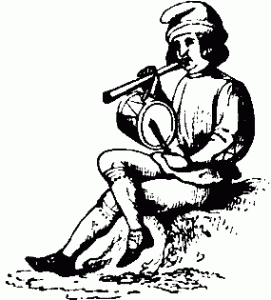 The most popular album (record; collection of songs) of 2011 in the United States was the British singer Adele's "21." You've probably heard of Adele and her impressive (amazing; awesome) voice.
You probably did not know that the second most popular record of 2011 was not by Justin Bieber or Beyonce or some rapper. No, the second best-selling album of last year was  Michael Bublé's "Christmas."
Never heard of Bublé? He's what we call a crooner, someone who sings songs in the style of the great pop singers of the 1940s and '50s, singers like Frank Sinatra.
Bublé has discovered what many other singers have learned: Christmas music is almost guaranteed (certain) to sell, and sell big (a lot), every year. Every November and December, Christmas songs sung by pop singers hit the top of the charts. ("The charts" refers to the list of the best-selling songs or albums of a certain period of time. To hit the top of the charts means to sell more songs or albums than anyone else for that week, month, or year.)
In fact, if you are a popular singer and want to make a lot of money, putting out (releasing; making available for sale) a Christmas album is a very smart business decision, no matter (regardless) of what kind of singer you are. Country music stars, old rockers (singer of rock music), crooners like Bublé – almost everyone who records a Christmas album makes money.
Sometimes the songs on the albums are original ones. Sometimes they are traditional carols (Christmas songs that have been around for many hundreds, sometimes thousands, of years). It doesn't really matter.
I'm thinking of releasing my own Christmas album next year, maybe singing Bruce Springsteen's rendition (version; performance) of "Santa Claus is Coming to Town" or Rod Stewart's "Merry Christmas, Baby." Look for it on iTunes in 2013.
~Jeff
Image Credit: Christmas Minstral Playing Pipe and Tabor, Wikipedia PD