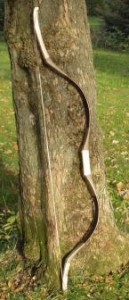 If you go out today and ask an Angelino (someone who lives in Los Angeles) when "opening weekend" is, he'll probably ask you, "For which movie?"
If you ask a Minnesotan when opening weekend is, he'll instead ask you, "For pheasant (a type of bird) or deer?"
In Los Angeles and in most parts of the country, opening weekend usually refers to the first weekend a movie is released (shown in the theaters).
In Minnesota and neighboring (nearby) states, opening weekend refers to the first weekend of the fall (autumn) when you can go out and hunt (try to kill) certain kinds of animals.
Hunting is part of the culture of many areas in the Upper Midwest, a part of the country that includes Minnesota, Wisconsin, North and South Dakota, and Iowa (and maybe parts of Michigan).  Although my father was never a hunter (and neither am I), I had lots of friends who hunted deer and other animals each year. My uncle hunted deer with a bow and arrow (see photo). A good friend of mine would (used to) hunt pheasant with a rifle.
Hunting may seem cruel (mean; unkind) to many people, but hunters say that it actually helps keep the animal population from getting too big. (Animals probably have a different opinion.)
Hunting is still mostly a man's sport; you'll find very few women in a hunting party (group of hunters). But although hunting is supposed to be for tough guys (men who are strong), many hunters try to provide themselves with a little comfort by building deer stands to keep themselves warm during the cold Midwest hunting season (time of year).
A deer stand is a place you can sit and wait for the deer to walk by. It can be as simple as a small chair, but more elaborate (complicated; complex) deer stands are like little houses, with doors, windows, heaters, and a place to eat!
The problem with deer stands is that some men build them on public (government) land (property) without the government's permission (saying it is okay). The stands sometimes are abandoned (left without anyone taking care of them) and often kill the trees they are attached (connected) to.
As a result (because of this), officials (government workers) in some states have started to crack down (to punish) on the owners of these illegal deer stands, especially the larger stands. Hunters can now be fined (punished by being made to pay money to the government) for building deer stands on government land.
So, when is opening weekend?
For the latest James Bond movie, it was last weekend. For hunting deer with a rifle (large gun) in Minnesota, it's this weekend.
Both involve guns, but only one will have beautiful women.
~Jeff
Photo credit: Hun bow, Wikipedia CC