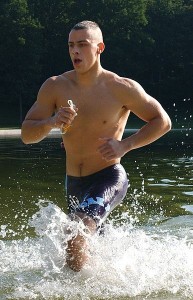 To peak means to reach the highest point of something, usually the highest level of your abilities or capacities. We sometimes talk about sports teams "peaking" at the right time or right moment, meaning that they seem to play best exactly at the best possible time (such as during the championship game).
An article I read recently reviewed (talked about) evidence that suggests (indicates; supports the idea) that all of us have "peak times" when certain activities are most likely to be performed at the highest level. For example, for most people the late morning (two or three hours after waking up) seems to be the peak time for doing intellectually (using the mind to reason and think) difficult or challenging work. The explanation for this is related to the fact that our body temperature increases in the morning, and this increase improves our memory and concentration. (Taking a warm shower in the morning can speed up this process (make it go faster).)
Dr. Stephen Kay of the University of Southern California here in Los Angeles says that our body has a natural clock that it follows. If we follow that clock, we will be able to perform better at our daily tasks (things we do).
Here are some other suggestions based on the research on your body's natural clock as to when you should do certain things during the day:
9:00 AM: Have a tough (difficult) talk.
We need a lot of energy and concentration when we discuss a difficult issue with friends or coworkers (people at our job).
2:00 PM: Naptime.
A nap is a short period of sleep during the day. People get drowsy (sleepy) around two o'clock in the afternoon, so taking a short nap is recommended.
3:00 – 5:00 PM: Work out (exercise).
Muscle strength peaks during the late afternoon, as does the ability of your lungs. This makes it a good time to do physical exercise.
So now you have your schedule for today!
I'm writing this post in the late morning, so so far, so good (I'm doing well up to this point, but I'm not finished yet). Now I'm looking forward to my afternoon nap.
~Jeff
Photo credit: Soldier Running in Water, Wikipedia PD