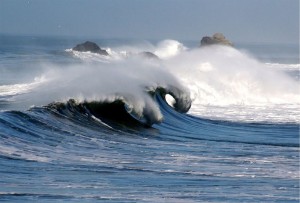 There are only two possible memories you had this weekend upon hearing of the death of the first man on the moon, Neil Armstrong: watching footage (a video recording) of the landing in history class at school, or thinking of where you were on July 20, 1969, when you watched it live. I fall into (am part of) the latter (last-mentioned) category. And for that reason, I am on the edge of the wave.
A wave, of course, is what moves through water when there is some motion or wind or movement. The ocean water moves in waves.  And, perhaps because I live near the ocean myself, a wave was the first thing I thought of when I heard on Saturday that Armstrong had died, and that I was old enough to remember his historic walk on the moon.
Here's what I mean: I, having been born in 1963, am among the youngest people in the world who could possibly be old enough to remember the moon landing, to remember where I was when it happened. (I was in my parents' bedroom, on the bed, watching a small black-and-white television.) Anyone younger than I am (well, perhaps a year or so younger would qualify (meet the criteria)) is too young to have witnessed the event, or at least to remember watching it. So if you were born, say, in 1965 or later, you are likely to have no good memory of Neil Armstrong's famous words, spoken live, "One small step for man, one giant leap (large step or jump) for mankind (humanity)."
I am on the edge or end of that wave of people on this planet who have this particular memory, just as someone born in 1996 would be on the edge of the wave of those who remember 9/11, or those born in 1923 might remember the great Stock Market Crash of 1929.
We can call these memories "datable" memories (memories of events that we can say happened on a particular date). My earliest one is actually from a year earlier than the moon landing, in 1968. It was, unlike the moon landing, among the saddest of events of that time period: the funeral (death ceremony) for the assassinated (murdered) presidental candidate, Robert F. Kennedy, brother of the late (dead) President John F. Kennnedy.
We all have datable memories, I'm sure, and some of these include great historical events such as the moon landing. What is your oldest datable memory? Are you on the edge of a wave for some famous event?
~Jeff
Note: The Sea of Tranquility in the title of this post is an area on the moon.
Photo credit: Ocean wave in Pacifica, California, Wikipedia CC