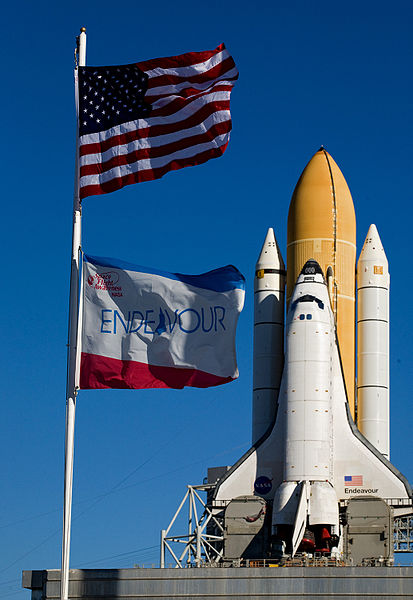 Normally, traveling 12 miles (19 kilometers) is not a great distance. But if you are a space shuttle, that trip can be a major (big) headache.
A space shuttle is a space ship or vehicle that travels, well, into space. Endeavour* is an American space shuttle that first went into space in 1992 and flew its last mission (journey into space) in May 2011. In those 19 years, it circled (went around) the Earth 4,600 times and spent nearly 300 days in space. After all of those years in service (working), it is now retired (no longer required to work). In September and October of this year, it will travel from the Kennedy Space Center in Florida to Los Angeles to its permanent (not to be changed) home at the California Science Center near downtown Los Angeles.
To get to the California Science Center, Endeavour will  fly from Florida to California on the back of an airplane, a Boeing 747.  From the Los Angeles International Airport, it will travel on land 12 miles to the museum.  Endeavour is 57 feet (about 17 meters) long and has a wingspan (from one end of the wing to the other) of 78 feet (nearly 24 meters).
Recently, I was at a birthday party for one of my friends and I met a man who works at the California Science Center.  I knew nothing about this upcoming (soon to happen) move of the Endeavour, but he told me all about it. He said that the museum has been making arrangements for its arrival for months.  The biggest problem is that the space shuttle cannot be dismantled (taken apart) and must travel in one piece.  The route (path) that the space shuttle will travel has been very carefully mapped out (planned).  It will take four days to get this huge ship across the city.  It will also require that power lines (electrical lines bringing power to buildings) and traffic lights (red, yellow, and green lights used to control cars and traffic) be moved, and trees be pruned (cut back; made smaller). The space shuttle will travel at a speed no more than two miles (3.2 kilometers) per hour, and at some points on its journey, it will have less than one foot (.3 meters) of clearance (space) on each side. This will be a major undertaking (project; task).
Once at the museum, it will be place on display (for people to see it), and eventually (sometime in the future), the museum will build an addition (add a building) where it will be placed permanently for visitors to see.
The path that Endeavour will be taking is actually not far from where I live.  I hope to catch a glimpse (brief look) of it as it makes its way through L.A. streets. With luck, it will arrive without incident (with no problems).  It would be ironic (happening in the opposite way that one would expect) if the space shuttle made it through 19 years of space travel unscathed (unharmed; safely) only to meet with problems on its final and most dangerous journey — through Los Angeles streets!
~ Lucy
* The word "endeavour/endeavor" means to try hard to do something or to try to achieve something. The space shuttle is named "Endeavour" spelled with an "OUR." In American English, we use the spelling "endeavor" with a "OR." I have no idea why it was named using the British spelling.
Photo Credit: STS-130 Endeavour Rollout6.jpg from Wikipedia