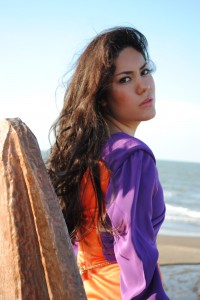 There's an old saying (expression) in English, "Imitation is the highest form of flattery." To imitate means to do what someone else does, to copy them. Flattery is when you compliment someone, when you say something nice about them. The expression means that doing something the same way as someone else has done it is like paying a compliment (saying something nice) to the other person — you thought what they did was so good, you decided to do it yourself.
Not everyone agrees with this positive view of imitation, however – that copying another person is a good thing. The term copycat refers to a person who copies another, but is almost always used in a negative way, to emphasize the fact that the person has stolen someone else's idea. Record companies and movie studios, for example, certainly do not consider the pirating (illegal stealing or copying) of their copyrighted (legally protected) songs and movies to be a compliment.
According to a recently published book, The Knockoff Economy: How Imitation Sparks (Starts) Innovation (Creativity), sometimes being a copycat can be good for creativity and the economy. For example, in the world of fashion design, it is not possible to copyright the look of a dress or a piece of clothing. So when a designer like Gucci creates a beautiful dress, almost immediately there are people who are creating knockoffs of that dress. (A knockoff is an imitation product that looks just like the original.) This causes the designers to come up with new designs frequently, since their old designs can easily be imitated and sold by other people. Knockoffs also create a certain kind of free advertising for a product: More people see what the product looks like and have positive opinions of it (because if it weren't any good, why would you imitate it?). In fact, a 2009 Harvard Business School study found that women who buy knockoff purses often decide later to buy the real thing.
The same is true in the world of cooking. It is not possible to copyright a recipe (instructions for making food). When one restaurant creates a fabulous- (wonderful) tasting new dish (type of food), other restaurants may copy it. In order to be considered original, chefs (professional cooks) are constantly coming up with (inventing) new recipes. Often these new recipes are based on or have their beginnings in older recipes, so that the creativity comes from adding or changing some element in the original.
Of course, we are not talking about simply stealing someone's property or taking things without paying for them. But under certain circumstances, imitating or copying what someone else has done can be a good way of spreading new ideas and making them better.
Have you ever copied someone else's idea in a way that made it better?
~Jeff
Photo credit: Gucci Knockoff Dress, L'Hedonista, CC
UPDATE: I want to be very clear that I am NOT condoning (giving my approval) to any kind of stealing of people's ideas or goods (things they sell or own), either physical or digital (e.g. audio files, ebooks, PDFs, photos, designs, etc.). I'm not even saying I completely agree with the authors of the mentioned book about whether certain things that aren't currently (at this time) protected by copyright (such as fashion and cooking) should not be. I'm only summarizing the author's position. I'm against any sort of taking of things that you don't own just because you can, legal or illegal, in the name of "imitation."  Just wanted to make that clear…