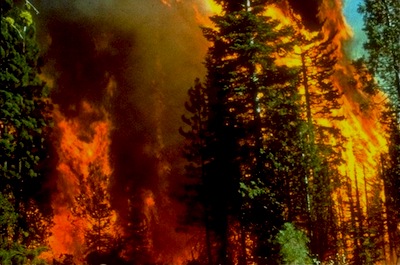 Wildfires (large, uncontrolled fires) are as bad as their name sounds. They are usually driven (pushed) by high winds and fed by dry weather conditions. And they often devour (destroy; consume) everything in their paths.
We have frequent wildfires in California. Lucy wrote about the bad wildfires we had in 2007. One of them came to within a few miles of my house east of Los Angeles. Last year there were bad wildfires in the states of Texas and New Mexico. This year they consumed (burned; destroyed) large areas of Colorado.
Wildfires move fast. And people in their paths often have very little time – sometimes no time – to decide what to save before they flee (quickly leave) their homes.
Two years ago, Foster Huntington asked a group of friends at a dinner party, "If your house were on fire, what would you take with you?" He thought this question would be a "subtle (skillful, clever) way to get people to discuss their values" – what's really important to them. He believed that the answers would tell something about each person's interests, background (personal and family history), and priorities (what's most important).
He and his friends shared their answers and had a lively (full of energy) discussion. After the dinner party, Huntington continued to think about his answer. And he asked other friends what they would take. He used the answers to start a new website – The Burning House – where he asks visitors to answer the question and submit (send, upload) a photograph of the items on their lists.
The Burning House web site went viral (quickly became popular on the Internet) and stories about it appeared in the media (newspapers, television, etc.). As it "snowballed" (grew rapidly), Huntington decided to quit his job as a designer at Ralph Lauren, an American fashion company, so he could travel across the U.S. and talk to people who weren't typical (usual) Internet users. He wanted to write a book and he wanted to include everyone – young and old, rich and poor, from all parts of the U.S.
Huntington said he learned a lot as he listened to people's answers. The "conversations almost always centered (focused) on the conflict (opposite feelings) of what you want versus (as compared to) what you need." Usually, he writes, the important things represent who people are, key (significant or important) moments in their lives, and important relationships. Often they are not worth a lot of money.
In his new book The Burning House, he writes that "developed countries are consuming (using) more than ever. …people desire to define (describe) themselves by the possessions (things)  they [accumulate]." In the end he writes that "this project has taught me that I need a lot fewer material (physical) possessions."
I encourage you to take a few minutes to look at The Burning House web site. Then come back here and tell us how you would answer the question – if your house were on fire, what would you take with you?
~ Warren Ediger – English tutor and coach, creator of Successful English where you'll find clear explanations and practical suggestions for better English.
Photo courtesy of Wikipedia Commons.