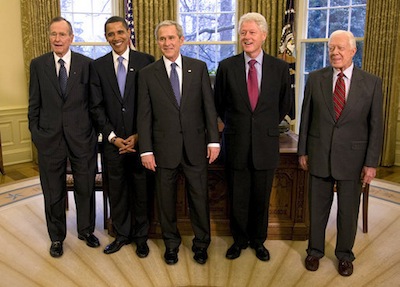 Clubs are organizations for people who have a common (similar) interest or enjoy similar activities. And they've been around (existed) almost since the beginning of human history.
There are chess clubs for chess lovers. There are social clubs for people who enjoy socializing (spending time together in a friendly way). And there are service clubs, like Kiwanis or Lions, whose members work together to help other people.
Some clubs are small and local. Others, like Kiwanis and Lions, are large international organizations.
Most clubs have requirements and a process for joining (becoming a member). Some are easy to join, others are difficult. Many require members to pay dues (an amount of money) to help with the costs of the club.
In the U.S., there is a most (very) exclusive (difficult to become a member) club. It's called The Presidents Club, and it's described in a new book by two writers from Time magazine. Its members are the living former (previous; earlier) and current (present) presidents of the U.S. – Jimmy Carter, George H. W. Bush, Bill Clinton, George W. Bush, and Barak Obama.
The Presidents Club is not a formal (organized) club. Its members usually meet only on special occasions.
The Club members come from different political parties and usually have very different ideas about how to run (manage) the country. Some of them ran (tried to be elected) against each other and were very critical (said negative things) of each other. As a result, the members of the Club sometimes have only one thing in common: they were or are presidents of the U.S.
I was most interested by two things from the book. First, all the presidents respect (care about) the office (position) of the president and want the current president to succeed (be successful). When all the presidents gathered (met together) after Barak Obama was elected, former president George W. Bush assured (say something is definitely true) the new president that they all wanted him to succeed, that the office is more important than the person or political party.
I was also interested in the ways that former presidents counsel (give advice to) and help the current president. President Obama recently said that the president's job is very difficult, and no matter how hard you try, you can't make everyone happy. And that's why presidents often ask former presidents for advice and help – because they know and understand what it's like to be president.
There are many examples. After World War II, President Truman secretly (without telling anyone) asked former president Hoover to help him solve the problem of feeding people in Europe. Presidents Kennedy and Johnson regularly asked former president Eisenhower for advice, including what to do in Cuba and Vietnam. Several presidents have asked Jimmy Carter to go to countries, like North Korea, when there are difficult problems to be solved (find an answer for a problem). And Bill Clinton and George W. Bush helped raise money for people in Haiti after the earthquake several years ago.
If you'd like to learn more about The Presidents Club, you can listen to an interview with the authors of the book. And you can look at this collection of photos called Former Presidents Look to One Another for Advice, Friendship.
~ Warren Ediger, creator of Successful English, where you'll find clear explanations and practical suggestions for better English.
Photo courtesy of Wikipedia Commons.