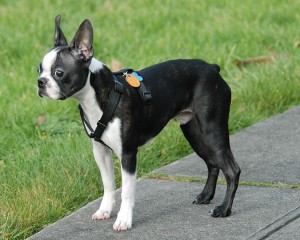 Today's post is something of (sort of) an experiment. I'm going to tell you a joke. I'll explain some of the words in parentheses () just like we usually do. At the end of the joke, I'll explain a little more in case you didn't get it (understand it; laugh).
The experiment is this: Is a joke still funny and worth reading in English if there are explanations with it? I'd like to ask you to (a) read the joke and then (b) answer the poll (survey) question below.
Are you ready? Okay, here we go…
——————
The Barking Dog
A dog who was normally quiet began barking (making a loud noise) every night at around 3 a.m. Irritated (angry) and sleepy, the dog's owner searched the back yard (behind his house) for what might have disturbed (caused a problem; angered) this otherwise (usually) peaceful (quiet) animal.
For three days he found nothing amiss (nothing wrong). When the dog woke up the neighborhood (barked so loudly that everyone in the area woke up) a fourth night at 3 a.m. with loud barking, the owner finally went around the house to investigate (see what the problem was).
There he saw his neighbor throwing pebbles (small rocks or stones) over the fence (something that divides two areas, usually tall pieces of wood or metal) at the dog. The owner asked his neighbor what he was doing.
"My mother-in-law (his wife's mother) is visiting," the neighbor explained. "If she gets woken up in the middle of the night (late at night, when everyone is sleeping) one more time, she says she'll leave!"
——————
Explanation: The man was trying to make the dog bark to anger his mother-in-law so that she would leave his house early.
Okay, so maybe not the funniest joke in the world, but not too bad, right? Now for the poll question. Please answer as truthfully (honestly) as you can.
[poll id="15″]
~Jeff
Photo credit: Boston Terrier, Wikipedia CC
Joke credit: JustCleanJokes.com, CC