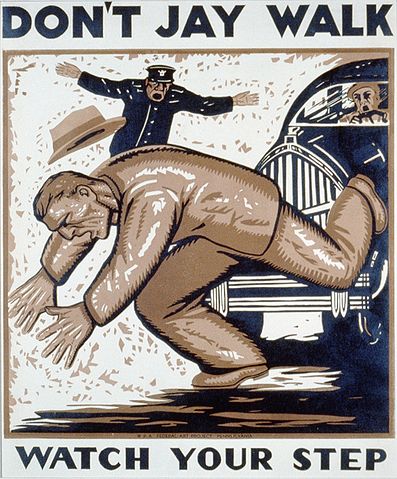 "If you ask people today [in the U.S.] what a street is for, they will say cars," writes Peter Norton, according to a recent Atlantic Cities article. "That's practically (almost) the opposite of what they would have said 100 years ago."
Norton reports that 100 years ago, streets in the U.S. were "vibrant (full of activity or energy) places with a multitude (large number) of users and uses." The videos I included in an earlier blog post – The Big One – clearly show what he means. In those videos, the streets of San Francisco are filled with a constantly changing mixture of people, horses and riders, horses and wagons, trolleys (tram or streetcar), and a few cars.
When cars first appeared, they were considered "intruders (someone who enters an area illegally) and a menace (something dangerous)." And if someone was killed by a car, it was a public tragedy (sad event), not a private one. According to Norton, the death of someone killed by a car would be commemorated (to remember and show respect) with marching bands, flower-carrying children dressed in white, and even monuments (a structure to remind people of something or someone). If a car killed or injured (hurt) someone, most people assumed  (thought it was true even if they didn't have proof) that the driver was responsible.
In 1923, people in Cincinnati, Ohio, became so angry about the danger of cars that they collected more than 7,000 signatures (written names) to support a law that would require a governor (a mechanical control) on every car so it couldn't go more than 25 miles (40 km) per hour.
The American Automobile Association (AAA) – we often call it "triple A" – and other organizations began to teach children that streets were for cars, not children. They even provided money for safety patrols – older students who were trained to help younger children cross streets safely before and after school.
Car manufacturers were worried. They were afraid they wouldn't sell many cars unless something changed. So they began to lobby (try to persuade someone in the government) lawmakers to write laws that restricted (limited) pedestrian (usually a person walking) use of streets so that only cars and other vehicles could use them. Lawmakers listened, and jaywalking became illegal (against the law) in the early 1920s.
Jaywalking is walking across a street or road where it is dangerous or illegal – Jeff talked about it several years ago in English Cafe 51. In the U.S., pedestrians may cross streets at places that are identified as cross-walks, a part of the road reserved (set aside) for pedestrians. Most cross-walks are at corners – with a signal light or stop sign – but they can also be located in the middle of the block (in between the corners). They are usually marked by white or yellow lines. If there is a signal light or stop sign, pedestrians must wait for the signal and for cars to stop before they walk across the cross-walk. While pedestrians are in a cross-walk, cars must wait until they cross the street.
If pedestrians cross a street at any other place, they are guilty of jaywalking and can be fined (pay money for doing something illegal) – in Los Angeles the fine is about $200. If they cause an accident, they may be legally responsible, even if they are injured.
If I asked someone where you live what a street is for, what would they tell me? Do you have jaywalking laws?
~ Warren Ediger – creator of Successful English.
 Photo courtesy of Wikipedia Commons.