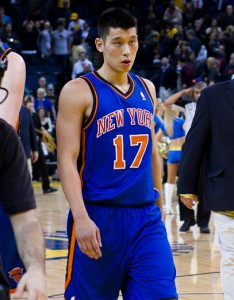 If you have been following (paying attention to) American sports at all in the past two months, you have probably heard of a 23-year-old basketball player for the New York Nicks named Jeremy Lin. Lin has become what we might call a household name (someone that everyone knows about) practically (almost) overnight (in a single day; very quickly).  Who is Jeremy Lin, and why has he become so famous?
Lin was born in Los Angeles to Taiwanese immigrant parents, but was raised (grew up) in Palo Alto, California, near San Francisco. He was a star basketball player in high school, and led (was the leader of) his team to the California state championship. But while he was an excellent student and a very good player, he was not considered by most college basketball scouts (people who look for and evaluate athletes) to be a great player. He was recruited by (asked to come to) Harvard, which is not exactly (not at all) known for great athletes. Even at Harvard, he was not very successful as a basketball player. But he got good grades, and became the leader of a Christian group on campus (at the college). He kept (continued) working, kept learning, kept improving.
After graduating from college in 2010, he was (again) not very successful in his attempt to be a basketball player. He failed several times over the next two years with different NBA (National Basketball Association) teams, each time being told he just wasn't good enough. It looked like he would not be able to make it (be successful) in basketball, despite all of his hard work. Finally, he was given a chance to play in the starting lineup (the players who begin the game, usually the team's best players) for the New York Knicks team in early last month.
Then it happened: Lin became a star.
Lin scored more than 20 points and had more than seven assists (when a player helps another player score a point) in this first five games, the first player in the history of the NBA to do that. He scored more than 130 points in his first five games, more than any player in the past 35 years. Suddenly, he was being talked about by every basketball fan in the country. Sports Illustrated, America's most popular sports magazine, put him on their cover (front page) two weeks in a row (consecutively; one after the other). Every newspaper, news magazine, and television station has had stories about his amazing success. And Lin continues to win.
Part of the reason for Lin's popularity is his underdog story. An underdog is someone who is not expected to win, who doesn't appear likely to win. There have been very few Asian American professional athletes in the U.S. Plus (in addition), Lin had failed so often in the past, no one thought he would succeed. But through hard work and, he says, his prayers, he did succeed.
In some ways, Lin has shattered (broken) the false stereotype (popular or typical beliefs about a group of people) that one's race or ethnicity is important in athletic success. And he has shown that hard work and persistence (not quitting) can pay off (bring you success).
His name also contributed somewhat to his success, in an odd (strange) way. Because there are so many words in English that begin with an "in" sound, and Jeremy's last name is "Lin," American reporters have put his name in front of these words to form puns, which are words that have two different meanings, or that sound like other words, and are used to make a joke. For example, his success has been called "Lin-sanity" (from insanity, meaning craziness). He is a "Lin-credible" (incredible = amazing) player. His success was not "Lin-stant" (instant = immediate; right away). And so on.
What does the future hold for (what will happen to) Jeremy Lin? It's impossible to say. In interviews, he says he would like to devote his life (spend his time) after his basketball career to being a pastor (a Christian religious leader) and helping those in need (who need help). But for now, he will shoot hoops (play basketball), win games, and continue to be "Lin-sanely" (insanely = amazingly) popular.
~Jeff
Photo credit: Jeremy Lin, Wikepedia CC