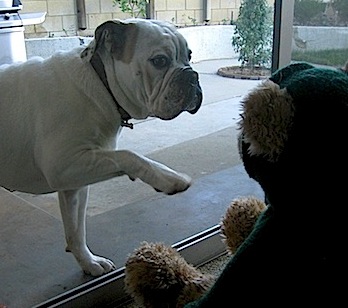 I'm a dog guy. I mean, I like dogs. Always have, probably always will. I got my first dog when I was two or three years old. If you count the dogs our children have had while they were living at home, I've shared my life with seven or eight dogs. We don't have one now, but we occasionally babysit our daughter's two dogs, Jameson and Kahlua – that's Jameson in the picture, wondering why the teddy bear (a toy bear) won't play with him.
I hadn't planned to write about dogs this week, but a few days ago I read a moving (creates strong emotions or feelings) story – Wonder Dog – by Melissa Green. It's about Iyal and Chancer, a little boy and a service dog. And I decided their story needed to be shared.
Service dogs are trained to help people with disabilities (difficult physical or mental condition). In the past, seeing-eye dogs, which help people who can't see, were the most common. Today a growing number of service dogs are being trained to help people with mental disabilities and severe depression (feel very unhappy and anxious). Some are even trained to help people with seizures (when someone can't control their body) or similar problems.
Service dogs need to have a good temperament (personality), be healthy, obedient (obey commands), and trainable (able to learn). Some come from breeders (people who raise dogs), others from shelters (places for animals with no owner). Early seeing-eye dogs were often German Shepherds, but today many different breeds (kinds) or mixtures (combinations of breeds) are used as service dogs. Wonder Dog is the story of one of these dogs.
Donnie and Harvey dreamed about raising a family, but they couldn't have children. So they did the next best thing: they adopted (became the parents of) a boy and a girl, Iyal, and Morasha, from an orphanage (a home for homeless children) in eastern Europe.
Donnie and Harvey lived their dream until, when he was three, Iyal began to throw tantrums (became angry and unreasonable) and try to do unexplainable things, like jump out of a fast-moving car. For more than a year doctors tried unsuccessfully to determine why he acted like this. A pediatrician (children's doctor) finally concluded that Iyal's brain and central nervous system had been seriously damaged before he was born. The cause was alcohol: his mother had been a heavy drinker.
Knowing why Iyal acted the way he did didn't solve the problem, though. Few medications or therapies (treatments) can treat this disability. Donnie and Harvey wanted to help Iyal, but it was difficult. Even though they loved their son, they were often angry and frustrated by his strange behavior (actions).
Chancer, a service dog from 4 Paws for Ability, helped helped make Iyal's and his parents' lives much brighter (happier). Two weeks after Chancer arrived, Iyal surprised his parents by using new words and expressing new ideas. When Chancer is nearby, Iyal relaxes and acts differently than he did before.
As Greene wrote, "Chancer hasn't cured (made the illness go away) Iyal." He is thirteen but acts like someone much younger. He still can't control his feelings and actions. But Chancer doesn't care. He doesn't know that Iyal is mentally impaired (damaged). He knows something more important: "that Iyal is his boy." He "loves Iyal in a perfect way, with an unconditional (without limits) love…." And you can see it when they're together, running, laughing, and sharing happiness – "just a boy and his dog."
You can find the entire story about Ilya and Chancer here: Wonder Dog – A Golden Retriever Reaches a Raging Boy. It will be difficult for some, but it's a wonderful story!
* "Not your ordinary…" – When we use this phrase, we are suggesting that there is something special about whatever follows. So "Not your ordinary dog" suggests that this post is going to be about a special dog, and it is.
~ Warren Ediger – English tutor and coach and creator of Successful English where you can find Lessons for better English.
Photo by W. Ediger.