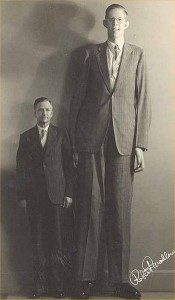 A big shot is an informal adjective to describe an important person in an organization. When we say "big" we don't mean they are physically big or tall.  But some new research suggests that people who are big shots really do think they're bigger!
In a recent study, scientists measured the height (how tall someone is) of 100 male and female college students.  Then they gave them a test that (the researchers said) measured (indicated; showed) how much ability they had to be a leader (boss; manager). Finally, they asked students to role-play (pretend) that they were either managers or employees.
The students were assigned (put into a group) randomly (by chance) to play either a manager or an employee.  They were told that they were put into the manager or employee group based on (because of) their score on the leadership test, but in fact, their assignment wasn't related to that score at all.
After they were assigned to a group, the students were then asked to give their own height.  There was no actual (real) difference in height between the two groups.  The employees gave their correct height, but the managers said that they were taller than they actually were!
Our perception (the way we see something) of ourselves psychologically is, according to the researchers, related to how we view ourselves physically.  Does this mean that if I imagine myself as being 20 years younger, I will be able to grow my hair back?
~Jeff
Photo Credit: Robert Wadlow, 1918; Wikipedia PD