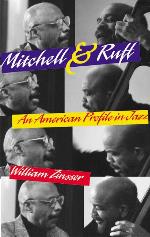 In some ways it was an unusual musical event. In 2009, popular young Chinese pianist (a person who plays the piano) Lang Lang joined Herbie Hancock, an African American jazz pianist, and the Philharmonia Orchestra in the Royal Albert Hall in London to perform (play) Rhapsody in Blue by American composer (a person who writes music) George Gershwin.
Several things set this performance apart (make it unique or unusual). Rhapsody in Blue is the first piece of concert music to blend (mix) classical music and jazz (If you want to know more about jazz and blues, read this blog post that I wrote several months ago). So I suppose it is fitting (appropriate) to have the piano part of Rhapsody played by classical and jazz pianists together, especially since it is usually played by only one pianist.
What makes this performance even more interesting to me is that the story of jazz in China did not begin until 1981, almost exactly one year before Lang Lang was born.  Before then, jazz, which began in America, was virtually (almost) unknown in China.
American jazz was introduced to the Chinese by two other African American jazz musicians, Willie Ruff and Dwike Mitchell, when they were invited to Shanghai to spend (use time to do something) several days with the teachers and students of the Shanghai Conservatory (school for studying music and other arts) of Music. William Zinsser, who also traveled to Shanghai, tells their story in his book Mitchell and Ruff: An American Profile (an article or book that describes someone) in Jazz.
Zinsser writes that Ruff and Mitchell explained jazz and the blues to their Chinese audience and performed (play their instruments) examples of what they are talking about.
The Chinese musicians in Shanghai had never experienced anything like this. Jazz is not written or planned. It is like an unplanned musical conversation. There is always a theme – like a topic of conversation – but every player has a different idea of what to "say" about it. A piece of jazz develops like an after-dinner conversation where we all talk about the same thing but have different ideas or feelings about it.
"The audience buzzed (made an excited noise) with amazement and pleasure," writes Zinsser after one number (piece of music) when Ruff told the audience, "That is called Shanghai Blues. We just made it up (created it now)."
One of the older professors got up and asked Mitchell and Ruff if they had a plan when they started to play Shanghai Blues. "No," said Ruff, "I just started tapping (make a quiet noise by moving your foot up and down) my foot and played the first thought that came into my mind…. And Mitchell heard it. And he answered. And after that we heard and answered, heard and answered, heard and answered."
The old professor asked if they could ever play the piece again. "No," said Ruff, "We never can."
"That is beyond our imagination (we can't imagine that)," replied the professor. "Our students here play a piece a hundred times, or two hundred times, to get it exactly right. You play something once – something beautiful – and then you just throw it away." For those of us who enjoy jazz, that is part of its attraction (what makes it interesting) – it's always new, always different.
If you want to experience part of Mitchell and Ruff's Shanghai experience, including hearing them create a new jazz piece based on (to use something to develop something new) a song written by one of  the Chinese students, you can do it by viewing this YouTube video.
Thanks to Mitchell and Ruff, and many other American jazz musicians, jazz has traveled around the world and is enjoyed today by people from virtually every country. And musicians like Lang Lang and Herbie Hancock can share the stage (perform together) to create something new.
~ Warren Ediger – creator of Successful English, where you'll find clear explanations and practical suggestions for better English.
Photo credit: cover of Mitchell and Ruff: An American Profile in Jazz from Amazon.com.