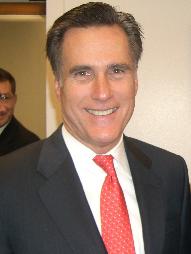 In today's post, I'll look at a newspaper story from today's New York Times, explaining what the words in the headline mean, and what the story is all about.
N.H. Vote Seen as Gauge as Rivals Try to Slow Romney
N.H. is an abbreviation for "New Hampshire," a state located in the northeastern part of the U.S. New Hampshire is in the news today because there is an election there to help decide who the Republican candidate for president will be this year, the person who will try to defeat Barack Obama in our presidential election in November. (For an explanation of our presidential election system, see here.)
You probably know there are two main political groups or parties in the U.S.: the Democrats (generally more liberal) and the Republicans (typically more conservative). The Democratic candidate for the presidency in 2012 will be President Obama. The Republicans are choosing their candidate from among several people.  The person with the most popularity right now is the former businessman and governor of Massachusetts, Mitt Romney.
The New Hampshire vote (election) is seen as or is being interpreted as a gauge.  A gauge is a tool or instrument you use to measure something.  Here it means an indicator, a sign of something. The election is a sign of whether Romney's rivals will be able to slow him down.  A rival is a person who is competing with you for some prize or in some competition, a person who wants to defeat you. To slow someone or to slow someone down means to make him go less fast. In this headline, "to slow Romney" means to prevent him from winning the Republican nomination (the right to represent the Republican party in the presidential election) too quickly, before any of his rivals have a chance to win it themselves.
If Romney wins the first several state elections for the Republican nomination (he won the first one last week in the state of Iowa), it is likely that he will be able to beat (defeat) all of his rivals and become the Republican candidate. Of course, getting the nomination is just the first step. To become president, Romney will have to defeat President Obama in the November election. Right now it is too early to tell (to know) if he will be able to do that.
~Jeff