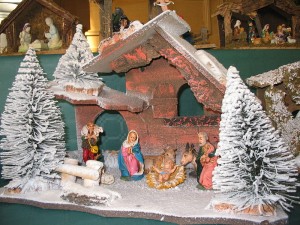 One of the more famous works of fiction (novels or stories) written in English about Christmas is Charles Dicken's A Christmas Carol. In the story, the main character (person), Ebenezer Scrooge, is taken by a ghost (the spirit of a dead person who comes back to Earth) to recall (remember) his own childhood. There are both good memories and bad memories for Scrooge, as I suppose there are for all of us when it comes to (as it relates to) recalling our days as children. Allow me to share some of mine with you as many of us prepare to celebrate Christmas this week.
Like many children, I have happy memories of Christmas as a child. Being the youngest of 11 children, I was born into a family that already had many of its own Christmas customs (practices; traditions) established by the time I arrived. As with many families, we had a Christmas tree, but since real trees were expensive to buy every year, my parents had an artificial (not real) tree. The first one I remember wasn't even green – it was made of metal! But it didn't matter to me or my family – Christmas was a special time of year with or without an actual tree.
We would spend time during the first week of Advent (the four weeks before Christmas) putting the tree together and decorating it. My mother made lots of ornaments (small decorations that hang on a Christmas tree) by hand (by herself, without a machine) which we put on the tree. The tree was put in the corner of our living room, and underneath (below) it, you would put the wrapped (placed in color paper) gifts you were giving to other members of the family. Since our family was so big, we actually picked names out of a hat – that is, we put everyone's name on a piece of paper, then into a small hat, and then selected the person we would buy a gift for.  This was also how my mother chose my first name, Jeffrey, when I was born, but that's another story (a different story I won't tell now)!
All of my siblings (brothers and sisters) and I had a Christmas stocking (a large red and white sock with your name on it).  The stockings were hung from the stairs leading to (going up to) the second floor. On Christmas morning, Santa Claus (well, I now think it was probably my parents) would put a small gift in the stocking, in addition to a wrapped gift under the Christmas tree.
The entire house was decorated for Christmas. On the outside door hung a Christmas wreath, a round, green circle made from parts of a (real!) tree. In one of the windows, my father had a large plastic Santa Claus that had a light inside of it so you could see it at night.
Most importantly, in our dining room, there was a manger or Nativity scene.  A manger is technically a small box used to put food in for animals, but it has come to represent the place of the "first Christmas," where Jesus, the founder of the Christian religion, was born. (Nativity comes from the Latin word natus, meaning born.) Tradition has it (it is said or thought) that Saint Francis of Assisi created the first Nativity scene back in the thirteenth century. A manger or Nativity scene usually includes small statues (objects that look like people) of Jesus's mother, Mary, of Mary's husband, Joseph, and of Jesus, along with some animals (see photo above for an example). Nativity scenes are now found in churches and, as was the case for my family, in many homes.  Amidst (in the middle of) all of the buying and gift giving and celebrating of Christmas, the manger scene was supposed to help my siblings and I remember what the holiday was really all about.
To those who will celebrate it this weekend, I wish you a very merry Christmas – and a happy Hanukkah to those who begin the Jewish "festival of lights" celebrations tonight.  As we enter this holiday season, I invite you to share some of your memories or current customs in celebrating this time of year.
~Jeff
 Photo credit: Nativity Scene, Wikipedia