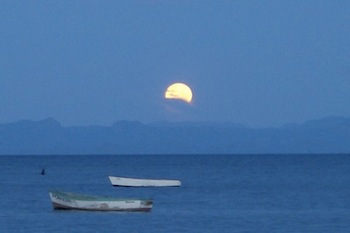 From time to time, ESL Podcast blog readers have asked where I find my ideas. The answer is really quite simple: every day, as I scan (look quickly at) the articles that come to my computer, I look for article topics that interest me and that I think I can make interesting to you, the readers. If you're a regular (someone who does something often) here on the blog, you know that I'm interested in the arts, music, and people.
A few days ago I saw an article title – The Art of Listening – that stopped me. I wondered if it might be something I could use in my teaching and writing. Listening, of course (certainly, obviously), is how we get most of our spoken fluency (and that's why the ESL Podcast is such a great gift to English learners).
The article, however, went in a totally different direction (it was about something different). The writer, a Western artist working in Mozambique, built (based) the article on a modern African parable (a story that teaches a lesson). In the article he tells how he, and others, had taken a break (stopped to rest) from a rehearsal (practice) for a theater performance. He writes:
It was a hot day, and we were taking a break from rehearsals so we fled (ran) outside, hoping that a cool breeze would drift (move slowly) past. The theater's air-conditioning system had long since stopped functioning (working). It must have been over 100 degrees (F., about 38 C.) inside while we were working.
He writes that two old African men made room for him on the stone bench they were sitting on. As the writer sat next to them, he listened as they talked about a third old man who had died recently.
"I was visiting him at his home," one of the men said, "and he began to tell me an amazing story about something that happened to him when he was young. But it was a long story. Night came, and we decided that I should come back the next day to hear the rest. But when I arrived, he was dead."
The writer needed to return to his rehearsal, but didn't want to leave the bench. He wanted to hear how the other man would respond (reply). He writes, "I had an instinctive (not conscious) feeling that it would prove to be important."
Finally the second old man spoke. "That's not a good way to die – before you've told the end of the story."
The writer goes on to say that he thinks that we could call our species (all people as a group) "homo narrans" – the story-telling person – rather than "homo sapiens" – which in Latin means "wise man." "What differentiates us (makes us different) from animals," he writes, "is the fact that we can listen to other people's dreams, fears, joys, sorrows, desires, and defeats – and they in turn can listen to ours."
In the Christmas story I grew up with, angels sing a song of desire, hope, and even promise. The great German composer George F. Handel translates it this way in his work The Messiah: "…peace on earth, good will* towards men."
I often think that if we listened more than we talked, if we were more interested in hearing the other person's story than telling ours, that song might some day come true.
If I may (if it's okay) – since I am one who celebrates Christmas – I'd like wish you a merry Christmas. And if you don't celebrate Christmas, my family and I hope that this holiday time at the end of the year will be a very special time for you and your family.
*Synonyms for good will include words like compassion, goodness, kindness, thoughtfulness, understanding, and neighborliness.
~ Warren Ediger – creator of Successful English, where English learners can find clear explanations and practical suggestions for better English.
Photo by bigdmia is used under Creative Commons license.