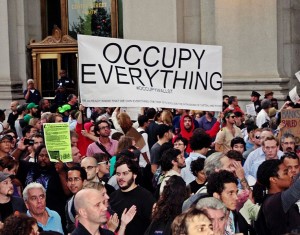 By now, we have all heard about the so-called (what most people know it as, but may not be the official name) Occupy movement. Occupy, in this sense, means for people to take control of and to stay in a place, usually illegally or with force, so people have been occupying streets and other public places to protest (act in some way to show their disapproval of) social and economic inequality (where people are not treated fairly or in the same way).  The protests began on September 17 in New York City and San Francisco.  Since then, similar protests have taken place in over 95 cities in 82 countries.
Many different groups of people are airing their grievances (telling others why they are unhappy).  Some of the protestors taking part in the protests, at least in the U.S., are young people who are either in college or who have recently graduated.  With unemployment rates (the percentage of people without jobs) high, recent graduates are finding it difficult to start their careers and to start paying back student loans (money borrowed from banks and other institutions to pay for school).  According to Time Magazine, in 1990, the unemployment rate for college graduates was around 5%.  Now it is approaching (getting close to) 10%.
In the U.S., the price of higher education (study at a college or university) has soared (gone up very much).  In 1992-1993, the average student loan amount was about $15,000 (adjusted or changed to 2010 dollars).  In 2010-2011, it is over $34,000.  Most student loan programs give students a six-month grace period (time when someone does not need to pay back money yet).  After that, they must begin repayment (paying money back), whether they have a job or not.  Of those students who began repayment in 2005, 41% became delinquent (behind in their payment) or defaulted (could not repay a loan at all) within five years.  If you consider that as a country, the U.S. has more student loan debt (money owed) than credit card debt, this may very well (very likely) be the next big credit crisis (a time of big problems because of money people have borrowed and can't pay back).
Students are certainly not the only ones protesting in the Occupy movement and suffering in this economy, but are recent graduates facing these types of problems where you live?  Who are the people participating in the Occupy protests in other countries?
~ Lucy
Photo Credit:  Day 14 Occupy Wall Street September 30 2001 from Wikipedia