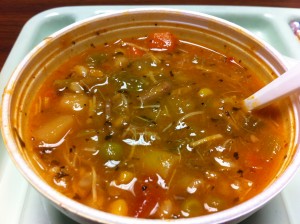 A few weeks ago I wrote about going to a traditional Midwestern (in the middle and northern part of the U.S.) fall festival, and described the types of games and events you might find there. Today we'll talk about an even more important part of a fall festival: food.
Some of the food you will find at a fall festival could be found at almost any fair (festival) or celebration with a large number of people in the Midwest, including hot dogs, bratwursts (a type of German sausage), hamburgers, and corn on the cob.  In addition, at a Minnesota or Wisconsin fall festival, you will often find something called booya (sometimes spelled "booyah"). Booya is a stew or thick soup, typically made with beef but also sometimes with chicken, along with lots of different kinds of vegetables.  Booya is always made in a large kettle (pot or cooking container), and is cooked slowly over many hours to obtain (get) the best possible taste. Booya kettles are huge, holding up to 50 gallons (190 liters) of soup!  These large kettles are usually owned by a local church or community organization, and are used for many, many years.
The derivation (origin; place where something comes from) of the word "booya" is somewhat in dispute (people don't agree on the answer). Some people say it comes from a mispronunciation of the French word bouillon, meaning "soup."  The French explorers (people who go to areas previously unknown to them) in North America were the first Europeans to settle (live) in what are now Minnesota and Wisconsin, and many places in the Midwest have French names to this day (today). So it seems very possible that the word "booya" is derived from a French word.
However, booya is not considered a French food by Midwesterners, but rather something invented in the U.S. There are in fact very few French descendents (people whose parents, grandparents, great-grandparents, etc. were originally from France) living in Minnesota today. And like many types of traditional food, there are arguments over whose booya recipe (instructions for cooking) is the best.
The fall festival I attended in October is famous in the Twin Cities (St. Paul and Minneapolis, Minnesota) for its booya, and it tasted as good as I remembered it tasting as a teenager. Booya is so popular that festivals often run out of it (use or sell all they have) after just a few hours, so smart attendees (people who go to an event) arrive to the festival early.  After eating one bowl of booya at the festival, I got in line (stood in a line of people) to buy some more booya to take home with me for dinner. I'd love to share some with you, but the photo (above) will have to suffice (be enough or sufficient) for now!
~Jeff
Photo credit: Jeff McQuillan