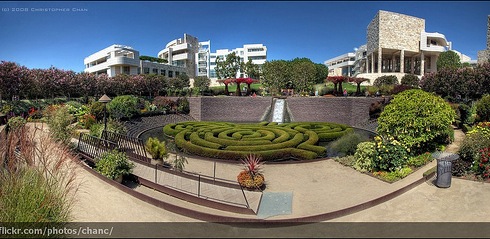 Los Angeles Stakes Its Claim as a World Art Center. That was a headline a few days ago in the New York Times. To stake a claim means to say publicly that you believe you have the right (authority or power) to do something, in this case the right to call yourself a world art center.
I wonder how many people think of Los Angeles as a world art center or, simply, an art center. We usually reserve (keep, hold) that right for cities that are home to the Louvre, Prado, Tate, Hermitage, or other well-known museums.
When many of the people I've talked to think of Los Angeles, they seem to think first of Hollywood. Or Disneyland. Or LAX (Los Angeles International Airport) – often on their way to Las Vegas. But not art.
That may all change if Pacific Standard Time: Art in L.A. 1945 to 1980 (PST) is successful. PST is a six-month series (similar events that happen one after another) of exhibitions (art shows) at 130 museums and galleries (places where you can see and buy art) from San Diego to Santa Barbara – cities that are south and north of Los Angeles. The New York Times article calls PST "an exhaustive (complete) accounting (description) of the Los Angeles-area art scene (area of activity)."
I was happy to see that the Times writer feels that Los Angeles deserves (has earned the right) to be considered an "art capital in the same league as (to be as good or important as) New York, Berlin, and London." And he explains why: "Los Angeles these days has [many] ambitious (determined to be successful) museums, adventurous (not afraid to try new things) art galleries, wealthy collectors, top-notch (excellent) art schools and – perhaps most important of all – young artists…."
Let me tell you about a few of my favorite places for art-gazing (looking at art) in the Los Angeles area:
The Getty, two separate museums, is probably the best-known of the Los Angeles-area museums. The Getty Center sits high above Los Angeles in the Santa Monica hills. The buildings and garden are as impressive as its art collection. The Getty Villa, a recreation (built to look like) of an ancient Roman country house, overlooks the Pacific Ocean in Malibu. The Villa's collection gives visitors an unusual look at life in ancient Rome, Greece, and Etruria (now Tuscany and Umbria in Italy).
The Norton Simon Museum, probably my favorite, holds the private art collection of Norton Simon, a southern California businessman and philanthropist (a rich person who gives money to help other people).  Many people believe it is the best private collection of art in the world. It includes 14th-20th century European, modern and contemporary, and Asian art. If you visit, you'll find works by many of the world's most famous artists. My adult ESL students used to enjoy visiting the Norton Simon as part of my summer art history class.
The Los Angeles County Museum of Art (LACMA) is best known for its collection of modern and contemporary art, American and Latin American Art, and art from Asia – China, Korea, and Japan. LACMA also has frequent special exhibits. On such exhibit, which includes several of Monet's Rouen Cathedral paintings just opened (began).
The Museum of Contemporary Art, in downtown Los Angeles, features art created since the 1940s.
From time to time (occasionally), my wife and I like to sneak (go quietly) down to Laguna Beach – an ocean-side (next to the ocean) village (small town) about one hour south of Los Angeles – for art and food. Many small galleries there display art by living artists. And when you tire (get tired) of walking from gallery to gallery, you'll find a large variety of food in restaurants on (next to) the beach.
If you ever visit southern California, give the Los Angeles art scene a chance. You won't be sorry; I promise.
~ Warren Ediger – creator of Successful English, where you'll find clear explanations and practical suggestions for better English.
 Photo of the Getty Center by Christopher Chan used by permission.