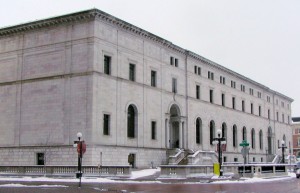 According to a recent study (research investigation), the closer teenagers (those ages 13 to 19) live to places where alcohol is sold, the more likely they are to binge drink. Binge drinking is when you drink excessively (too much) over a short period of time in order to get intoxicated (drunk) as quickly as possible.  Binge drinking is dangerous for many reasons, and has become more common in the U.S. in recent years among teenagers and college-age adults (ages 18-25). (We talked about this issue on English Cafe 167.)
The study found that living within a half-mile of a liquor store (a place that sells mostly alcohol in bottles and cans) significantly increases a teenager's likelihood (chances; odds) of drinking too much and of driving while intoxicated.  If you can walk to the liquor store, you are more likely to use it.  (It is illegal for teens to purchase alcohol in the U.S., but that doesn't prevent some stores from selling it to them.) We can think of the distance you live or have to travel to get something you want as being part of the "price" of that thing. If something takes a long time to get to, I may decide it is not worth the cost (of my time) to get it.  When you decrease the distance, you decrease the "price," and the lower the price, the more likely someone is to buy something.
This basic principle (idea) of smaller distance –> lower price –> more consumption (more using or buying of something) works for all sorts of activities, and can often be a good thing.  If you live closer to your gym, you are more likely to go there to work out (exercise).  It is also true for the topic of this week's English Cafe, public libraries. Several studies have found that the closer you live to a public library, the more likely you are to use it.  This is true for people at all levels of education, from college graduates to young children.
In fact, the magic number (important or significant number) seems to be about a half a mile (about .8 kilometers) for both libraries and liquor stores.  Kids who live more than half a mile from a library are much less likely to use it than those who are closer.
Although the advent (coming; arrival) of digital readers like the Kindle or the iPad may make the physical presence of libraries less important some day, distance still matters (is important). Back in my hometown (place where you were born) of St. Paul, Minnesota, I grew up only 1/3 of a mile from the nearest public library, and used it frequently.  I now live less than one-half a mile from my public library, and am there almost every week. If I had to travel 30 minutes to get the library, I may still go, but would probably go less often.
Do you have good public libraries where you live? Did you use them when you were growing up?
~Jeff
Photo credit: St. Paul Central Library, Appraiser CC