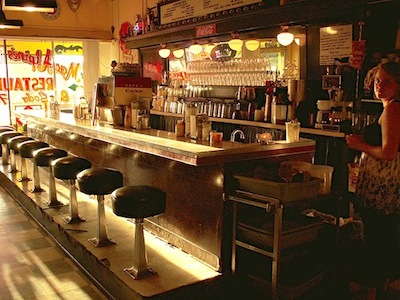 Childhood memories are never far away. A New York Times article triggered (caused me to remember) one of mine recently. The article – about Ava Drug in Ava, Missouri – brought back memories of the corner drug store and, especially, its soda fountain.
Years ago, before stores become more specialized, the corner drug store (many were on a corner near the center of town) was a fixture (something that's always present) in most American towns. In many towns they were a popular gathering place (a place for people to get together), much like a British pub, or public house. People met at the corner drug store to get a sandwich, enjoy a milk shake or soda, pick up a prescription, and buy a magazine, some candy, a small gift, or greeting card to give someone on their birthday.
The heart (most important or central part) of the corner drug store was the soda fountain (a machine that serves bubbly drinks, or the restaurant area in a store with a soda fountain machine). Some were very simple; others were ornate (highly decorated), often with a large wall mirror framed (surrounded) by dark wood. All of them had a bar (counter, a long narrow area for serving food or drinks) – similar to the one in the photo above – with stools (a seat with no back or arm) for customers to sit on. Usually there were a few tables and chairs for small groups of customers.
My cousin and I often hung out (spent time together) at the corner drug store where he lived. We enjoyed sitting on the stools at the bar. Deciding what to eat or drink was always a challenge (difficult)! The soda fountain offered ice cream cones and sundaes (ice cream, in a cup, covered by a flavored syrup like chocolate), and shakes (milk, ice cream, and flavored syrup mixed together). The menu (list of available food) also included a variety of drinks – sodas, like Coke; flavored sodas, like cherry Coke; and phosphates, a mixture of carbonated (bubbly) water and flavored syrup. While we waited for the soda jerk (old word for a person who worked at the soda fountain) to prepare our food or drinks, we'd often spin (turn around and around rapidly) around on the stools.
The corner drug store isn't exactly making a comeback (returning to popularity). But there are some, like Ava Drug and Fair Oaks Pharmacy & Soda Fountain in Pasadena, California, that are trying to keep the tradition alive. Fair Oaks opened as the South Pasadena Pharmacy in 1915; Ava Drug first opened in 1950. Both have been restored (returned) to their original decor (the way the inside of a building is decorated). At Ava Drug you can even get an ice cream cone for the original 1950 price – 5 cents! Take a minute to visit the Fair Oaks web site – it's fun!
If you ever come to the U.S., see if you can find a corner drug store. And if you can, stop and check out (visit) the soda fountain. Get yourself a cherry Coke or chocolate milk shake or … okay, you decide.
~ Warren Ediger – creator of Successful English, where you'll find clear explanations and practical suggestions for better English.
Photo by cobalt12 used under CC license.