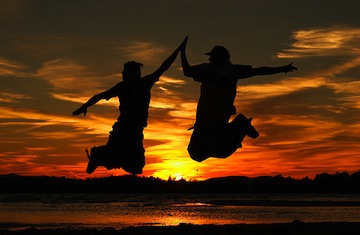 You've probably seen it, usually after something exciting has happened, especially if you watch American sports. Two players approach (move toward) each other, raise their hands simultaneously (at the same time), and, when they are close enough, slap (hit with the flat part of the hand) their hands together. It's called the high five.
So who started the high five? When? Where? The low five, with the hands down, goes back to World War II among African American servicemen (men in the military). But, according to a recent article in ESPN The Magazine, no one is sure about the high five. However, there are a couple of interesting possibilities.
The first story gives credit (says he did it) to Glen Burke, a Los Angeles Dodger baseball player, for inventing the high five.  Supposedly (many people believe) it happened in front of 46,000 screaming fans (someone who likes a sport very much) at Dodger stadium in 1977. Here's how ESPN writer Jon Mooallem tells the story:
It was the last day of the regular season, and Dodgers left fielder Dusty Baker had just gone deep (hit the ball out of the stadium, a home run)…. It was Baker's 30th home run, making the Dodgers the first team in history to have four sluggers (baseball players who hit the ball a long way) — Baker, Ron Cey, Steve Garvey and Reggie Smith — with at least 30 homers each. It was a wild, triumphant (full of pride, pleasure) moment and a good omen (sign of what will happen in the future) as the Dodgers headed to the playoffs. Burke, waiting on deck, thrust (moved suddenly) his hand enthusiastically (with excitement) over his head to greet his friend…. Baker, not knowing what to do, smacked (hit) it. "His hand was up in the air, and he was arching (bending) way back," says Baker, now 62…. "So I reached up and hit his hand. It seemed like the thing to do."
The second story credits Wiley Brown and Derek Smith, University of Louisville basketball players with inventing the high five. At a University of Louisville Cardinal (the team name) basketball practice during the 1978-79 season, Brown went to give a plain (ordinary) old low five to his teammate. Out of nowhere (suddenly, without warning), Smith looked Brown in the eye and said, "No. Up high."
The Cardinal players were tall and used their jumping ability to defeat other teams. So "when Smith raised his hand, it clicked (made sense) for Brown," writes Mooallem. "I thought," said Brown, "yeah, why are we staying down low? We jump so high."
So who did invent the high five? I don't know. And no one else can be sure they know. In both stories it appears (looks like) to have happened spontaneously (without thinking or preparation).
If you'd like to learn how to do the high five properly, here's a short, funny video about high five etiquette (rules for proper behavior).
*Gimme five = give me five; used when you want someone to give you a high five.
~ Warren Ediger – creator of Successful English, where you'll find clear explanations and practical suggestions for better English.
Photo by  johnwiechecki used under Creative Commons license.